The 'I Like It' raptress' younger sister defends her sibling after she and her husband Offset are involved in heated social media exchanges with the 'Real Atlanta' singer.
AceShowbiz –Cardi B receives support from her sister Hennessy Carolina. Making use of social media, Hennessy defended her older sibling after she was involved in heated social media exchanges with Akbar V.
On Monday night, September 26, Hennessy slammed Cardi's haters via Instagram Story. "These old bitter big body h*es be HATING AND MAD teaming up with each other cause they common Denominator is to hate in 1 person," Hennessy began.
"DOESNT MATTER HOW MUCH THEY TRY WE BLESSED ON THIS SIDE AINT NOTHING YA CAN MAKE UP TO TRY TO BRING ppl down they woke up mad af cause they big af couldn't see mfs out last night having a good time and looking great," Hennessy continued. She further blasted, "REAL LIFE HATING SALTY OLD HAGSS … and THEY STAY MAD!!"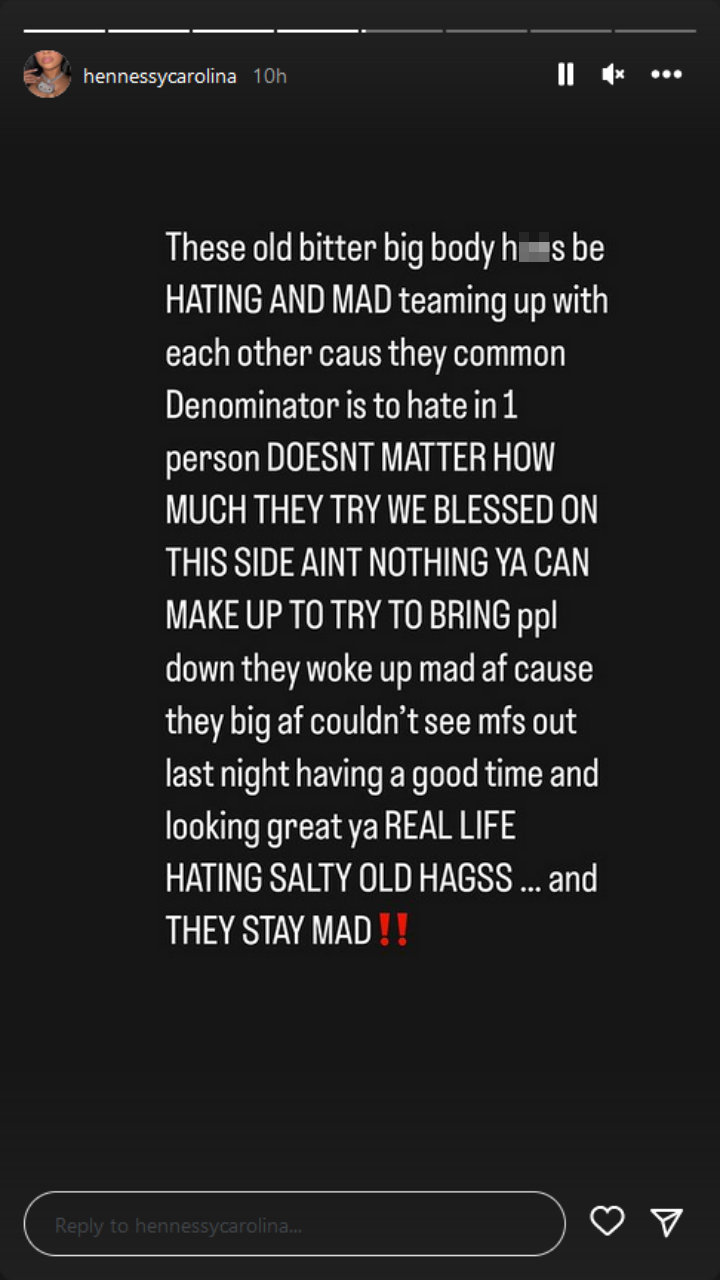 Hennessy Carolina defended Cardi B after her heated Twitter exchanges with Akbar V.
Hennessy's social media post came after Cardi and Akbar got into a serious war of words on Twitter. The social media back-and-forth allegedly stemmed from a comment made by Akbar on Sunday, September 25. Akbar appeared to doubt the success of Cardi and GloRilla's collab "Tomorrow 2" though she didn't mention any names. "If @chartdata ain't say it we ain't believing the CAP," Akbar first tweeted.
Cardi later assumed that Akbar dissed her. "Count all the times chart data posted u," the "Bodak Yellow" raptress clapped back. "I don't really like the internet games …My dms is open and also the streets! I don't gotta @ I can change a b***h life just by a mention….AND YES I HIT THEM DIRECTLY ,I don't do the internet!!"
The war of words became more heated as their kids became a topic of conversation. "See the difference between me &u I had Nikkas wanting to put babies In me while I was in the jungle but I said to myself I won't put my kids in the same hoods I was I raised in let alone ABANDONED THEM," Cardi fumed. "u had that choice to make as well not once but FIVE TIMES."
Akbar then brought up Offset, saying she received a call from Cardi's husband. "Offset calling talking bout u shouldn't have put me in it n***a," Akbar claimed. "all i got to do is make one call 3 letters #4pf u gonna s**t on yourself like u did behind compound," the "Real Atlanta" singer continued.
Akbar seemingly referred to a rumored 2020 altercation between Offset and Lil Baby's 4PF crew where it was reported that Offset was jumped and stripped of "everything but his boxers and just left him there." There was no video of the alleged incident and Lil Baby eventually denied that anything occurred.
In response to Akbar's tweet, Offset hit back, "Police a** h*e I ain't called you and If Any N***a played with me get blitzed ask around!" Akbar then accused the Migos member of "lying," adding, "Since I'm from Atl I'm telling y'all ho lil baby had offset running [laughing with tears emojis] it was so funny."
Cardi then took issue with Akbar bringing Offset into the feud. "B***h sooo why you ain't record the call?" she furiously asked. "You made that whole s**t up just soo you can bring my man up to try & bait him to snitch on himself cause you a COP A** H*E …why would my man call you when I'm handling s**t myself? CLOUT MUNCHER."
Cardi also suggested Akbar will try to capitalize on their beef by releasing a diss track. The Atlantic Records artist then concluded, "I should of never argue with this deadbeat , I should of just left it at this."
Source: Read Full Article