Netflix has been doing the Lord's royal work with casting for The Crown, especially when it comes to Princess Diana. As they should—there was zero wiggle room to mess this one up. Raises for the casting department, ASAP!
Season 5 of The Crown is currently filming in Spain, and the latest photo to surface shows Elizabeth Debicki and Dominic West 1,000 percent committing in their roles as Princess Diana and Prince Charles, and by committing, I mean totally transforming. In the photo, the actors are on a yacht and Elizabeth is barefoot and wearing a floral dress, while Dominic dons a double-breasted brown suit. Trust, you're really not ready for this one…
Behold: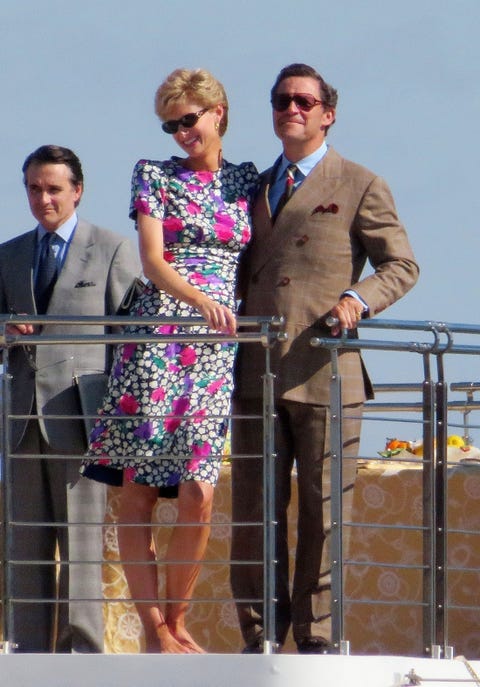 I dare you to lie and say your mind isn't completely boggled and fully blown by how UNREAL Elizabeth's resemblance to Lady Di is. I mean, come on. That feathered pixie is flawless and so! spot! on! The Crown even got the details in order, all the way down to the accessories with those skinny '90s sunnies. Sheesh! Go ahead and add the hair and makeup department and costume crew to that raise list, Netflix. Truly, angels they are.
The scene is likely recreating the 1991 trip Diana and Charles took to Italy with their sons William and Harry. The trip, which many considered to be a breaking point in the royal couple's marriage, was one of their last big hurrahs before they split the following year.
In August 2020, Netflix announced that Elizabeth would be taking Emma Corrin's role as the leading lady for seasons 5 and 6, while also noting that Dominic would be replacing Josh O'Connor as Prince Charles. Nearly a year later, Netflix dropped the first images of Elizabeth and Dominic in their respective roles, and the internet lost its damn mind. It's me. I am the internet.
Source: Read Full Article