The Massachusetts Senator takes to her Twitter account to express her disagreement with the fact that the Tesla founder who has been named Times' Person of the Year.
AceShowbiz –Elon Musk was honored with the title of Times' Person of the Year, but Massachusetts Senator Elizabeth Warren seemingly didn't agree to the decision. Taking to her Twitter account, the politician criticized the Tesla founder whom she called a freeloader.
"Let's change the rigged tax code so The Person of the Year will actually pay taxes and stop freeloading off everyone else," Warren wrote on the blue bird app. It didn't take long before Musk caught wind of the diss.
Attaching a link to a Fox News article about Warren being "a fraud" and lying "about being a Native American," the tech mogul wrote back, "Stop projecting!" He continued, "You remind me of when I was a kid and my friend's angry Mom would just randomly yell at everyone for no reason. Please don't call the manager on me, Senator Karen."
In another tweet, the billionaire went on to clap back at Warren, "And if you opened your eyes for 2 seconds, you would realize I will pay more taxes than any American in history this year. Don't spend it all at once … oh wait you did already."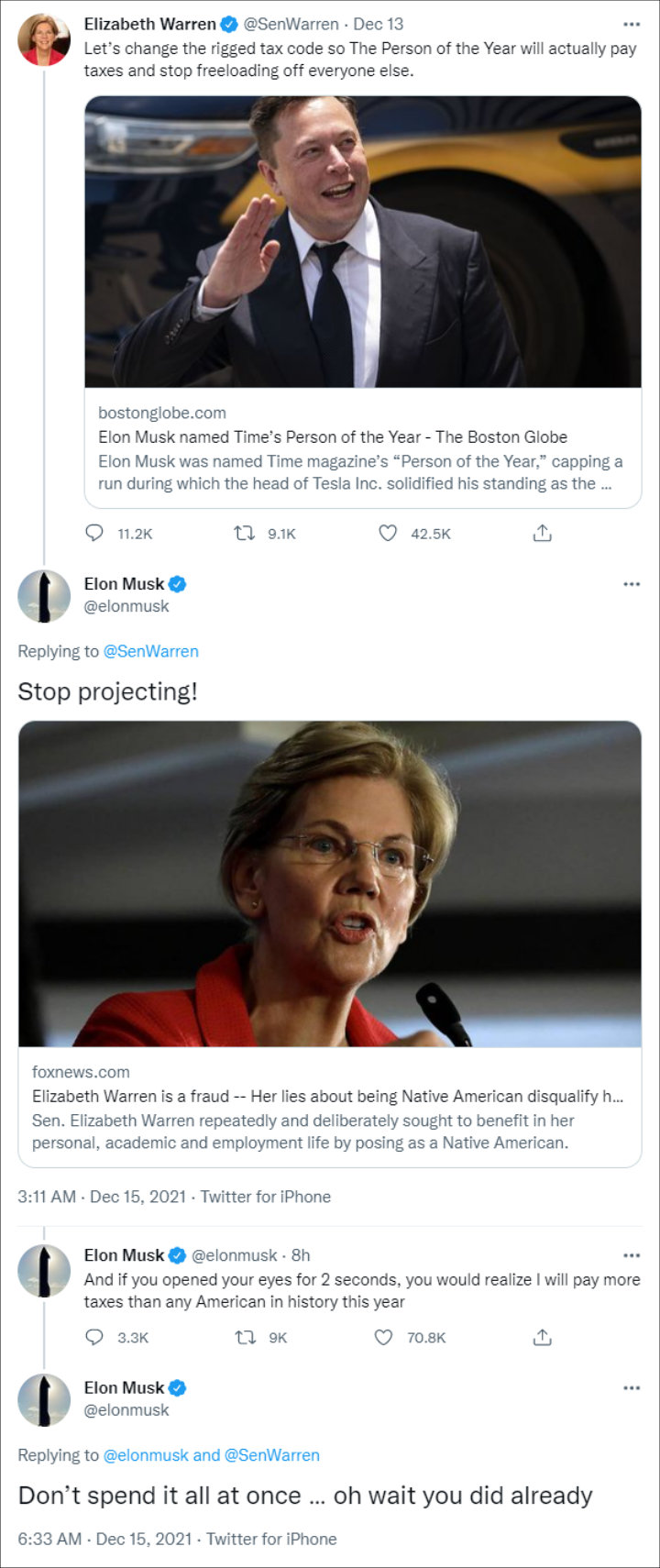 Elon Musk clapped back at Senator Elizabeth Warren.
Senator Warren wasn't actually the only person who didn't agree with Musk being named Person of the Year. Following the announcement, some Twitter users expressed their disagreement with one saying, "Everything is so f**king dumb."
"Other than the racial discrimination lawsuits, sexual harassment lawsuits, and NLRB investigations, how was the play, Mrs. @TIME?" another person questioned. Another user added, "I just want to emphasize, f**k this very much."
"Here's an idea: How about we celebrate real frontline workers instead of a billionaire who increased his wealth by $228,000,000,000 during a global pandemic?" someone else opined. Meanwhile, another user wrote, "was texted about this early this morning and thought it was a joke lol. what a year for this pick too." One person sarcastically added, "Time Magazine got this one right. We live in depraved, acquisitive, intellectually bankrupt times and nobody embodies our wretched zeitgeist quite like this bloated sociopath. Literally the hero we deserve."
Source: Read Full Article