Donald Trump Jr. and girlfriend Kimberly Guilfoyle have made their share of collective and individual waves in the news, making it easy to forget that Don Jr. hasn't been divorced from his ex-wife, Vanessa Trump, for all that long (per Page Six). Per Vanity Fair, the couple's journey to divorce was bumpy. With Vanessa filing in March 2018, a joint statement from the couple (via the New York Daily News) announced, "After 12 years of marriage, we have decided to go our separate ways." However, People reported that the ex-couple butted heads over dividing their marital assets, child custody, and child support payments. As Vanity Fair revealed, "one anonymous friend source said the couple decided to split because Don was cheap." 
In fact, Don Jr. had probed Vanessa's side of the finances. He was apparently curious about Vanessa's having inherited millions from a family investment in pasta sauce company Rao's Specialty Foods, per People. The upper-class-on-upper-class warfare seemed to end after Don Jr. found out, as divorce attorney Raoul Felder told People, that he couldn't dip into her net worth bumping (despite that she earned it before their separation). 
In February 2019, Vanessa and Don Jr. announced in a joint statement (via Vanity Fair), "We finalized our agreement at the end of last year." So, exactly how much did their divorce settlement cost Don Jr.? Read on for what happened after they reached their agreement. 
Donald Trump Jr. and Vanessa Trump protected their kids from their divorce proceedings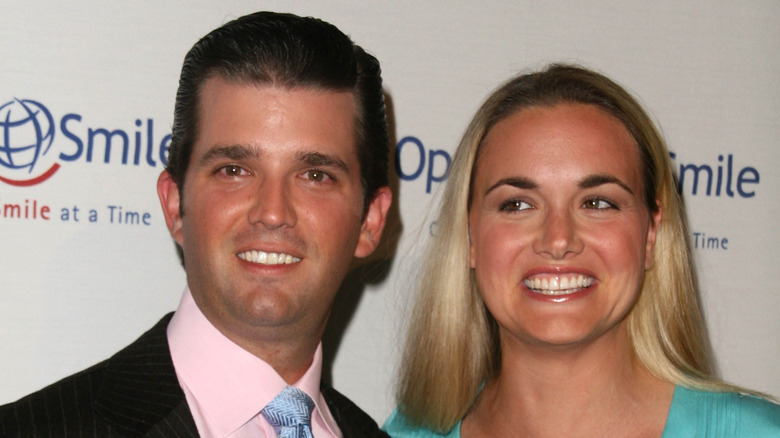 We will never know the financial details of Donald Trump Jr.'s divorce from ex-wife Vanessa Trump, thanks to an act of grace on the exes' part. As the 2019 joint statement about their divorce's finalization said (via Vanity Fair), "We are incredibly lucky to have five amazing children and are committed to raising them together… their happiness will always be our first priority." 
Don Jr. and Vanessa's decision to put their kids first in the proceedings won Judge Michael Katz's verbal favor, Page Six reported, with him praising the couple at their last divorce court appearance in July 2018, "You have prioritized your children and taken steps to shield them from what could have been an invasive litigation process. Not everyone is able to do that." Katz specifically referenced Don Jr. and Vanessa setting aside their financial disputes, making for a relatively speedy process, and their "committing to co-parenting." 
Per the outlet, the two agreed to a confidentiality agreement over their divorce proceedings, officially sealing off exactly how much their settlement cost Don Jr. What we do know is, regardless of divorce payments, Vanessa is doing nicely for herself, per People, after cashing out millions from her late father's Rao's Specialty Foods investment. 
Source: Read Full Article