The rapper's Twitter rant arrives after Tristan issues a public apology to Khloe Kardashian, with whom he shares a daughter named True, after he confirms that Maralee's son is his.
AceShowbiz –Joey Bada$$ apparently is invested in the whole drama involving Tristan Thompson and his baby mamas Khloe Kardashian and Maralee Nichols. The rapper took to his Twitter account to weigh in on the NBA star's headlines-making infidelity.
"Tristian [sic] Thompson gotta stop being a sorry a** n***a," Joey said of Tristan, who was confirmed to have fathered a newborn child with Maralee. Seemingly insinuating that Tristan shouldn't be afraid to stay true to his truth, Joey added, "Tell Khloe you're a f**king gyalist and you need more than one woman. Straight up. Whats so hard about being honest with our women fellas?"
He went on to rant, "F**k this western bulls**t. Relationships should be expansive and beneficial for all."
In a separate post, the "Wu-Tang: An American Saga" star further urged people to be honest with what they want. "Most of us have been in polyamorous relationships our whole lives. The only difference is we weren't honest about it. But if you've ever been sexually involved with someone non-exclusively, guess what, you're polyamorous," he noted.
Concluding his rant, the "All-Amerikkkan Bada$$" artist wrote, "Unconditional love means you love with no CONDITIONS. Most of our minds are way too conditioned to even love freely."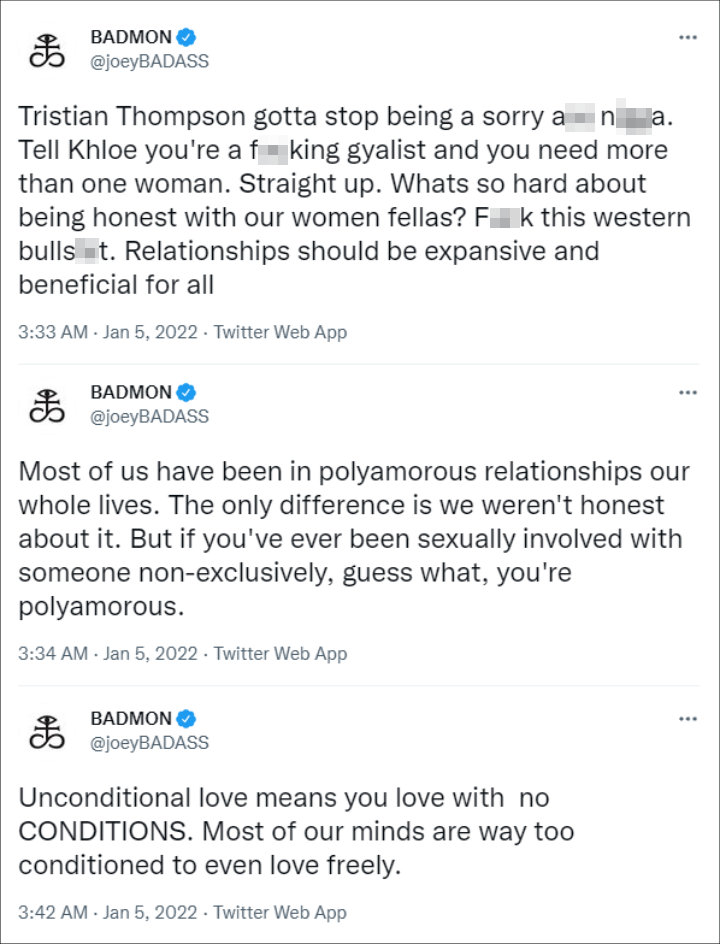 Joey Badass weighed in on Tristan Thompson drama.
His tweets arrived after Tristan issued a public apology to Khloe, with whom he shares a daughter named True, as he confirmed that Maralee's son is his. The Canadian athlete took to his Instagram Story on Monday, January 3 to announce, "Today, paternity test results reveal that I fathered a child with Maralee Nichols."
He added, "I take full responsibility for my actions. Now that paternity has been established I look forward to amicably raising our son. I sincerely apologize to everyone I've hurt or disappointed throughout this ordeal both publicly and privately."
"Khloe, you don't deserve this," he wrote for the "Keeping Up with the Kardashians" alum, whom he was with when he had an affair with Maralee. "You don't deserve the heartache and humiliation I have caused you. You don't deserve the way I have treated you over the years. "My actions certainly have not lined up with the way I view you. I have the utmost respect and love for you. Regardless of what you may think. Again, I am so incredibly sorry."
Source: Read Full Article