Kellyanne Conway has some choice words for President Joe Biden after his administration demanded that she resign from a prominent role. On Sept. 8, it was reported that the Biden administration had requested the removal of nearly a dozen officials appointed by the Trump administration to military service academy advisory boards. 
White House press secretary Jen Psaki confirmed President Joe Biden's request in a briefing with reporters, saying, "The president's objective is what any president's objective is — to ensure you have nominees and people serving on these boards who are qualified to serve on them and who are aligned with your values. And so yes, that was an ask that was made" (via CNN).
While the Biden administration has made it clear that they want qualified officials to serve on the boards, Conway has fired back about the removal on social media — and she disagrees with Biden about his assessment of her qualifications. Find out what she has to say below.
Kellyanne Conway doesn't believe she should resign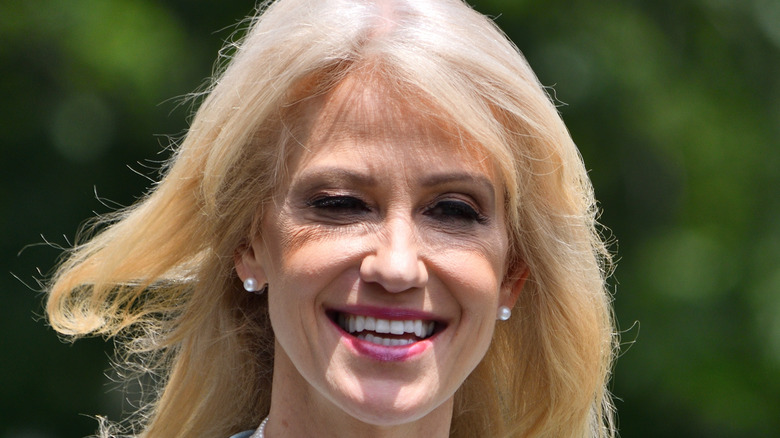 Shortly after CNN's report about the Biden administration calling for the removal of Kellyanne Conway and others from the military service academy advisory boards, the former Senior Counselor to former President Donald Trump fired back with a lengthy statement addressed to the current president on Twitter. Conway wrote that she, along with other officials Biden had named "were duly appointed to service academy awards," while accusing him of being "petty and political."
She continued, "Your decision is disappointing but understandable given the need to distract from a news cycle that has you mired in multiple self-inflicted crises and plummeting poll numbers, including a rise in new COVID cases, a dismal jobs report, inflation, record amount of drugs coming across the southern border, and, of course, the chaotic and deadly withdrawal from Afghanistan that has left hundreds of Americans and thousands of Afghan allies stranded Taliban rules."
Conway said that it is "an honor to serve on the Board of Visitors to the United States Air Force Academy" and that she has no desire to leave the board. She ended her statement, "I'm not resigning, but you should."
Source: Read Full Article