To expect anything less than breathtaking style from Rihanna would be an insult to the Fenty Beauty founder's name, but this week alone the "Needed Me" singer has delivered fashion inspiration for the full spectrum of occasions: Office? Check. Gala? Check. And now—after her Thursday spotting with boyfriend A$AP Rocky—date night? Check.
Yesterday, she was snapped on the streets of New York City with her partner of nearly a year. Dressed in a navy quilted bomber jacket, black stiletto booties, a navy tracksuit, chunky white sunglasses and a bold red lip, Rihanna looked devastating as the couple went shopping together in Manhattan.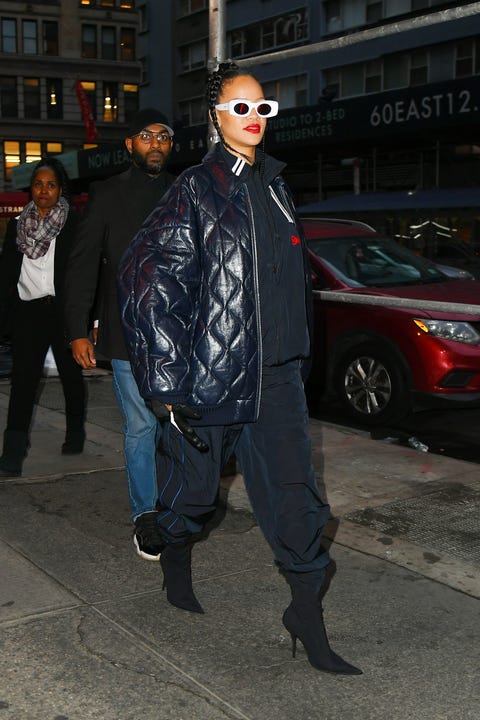 The images come shortly after Rihanna squashed rumors that she was expecting a child. On December 2, a fan named Jen shared a screenshot DM exchange between herself and the artist, in which Rihanna poked fun at the perpetual fan obsession over her body.
"Can I come to the baby shower sis!? 💀❤️" Jen wrote. "True or not your babies are going to be beautiful. Sorry everyone's up in your uterus right now 😂💀"
Rihanna responded, "Haaaaa! Stawwwp! You ain't came to the first 10 baby showers! Y'all breed me every year dammit lol"
The singer and entrepreneur, who was named a billionaire this year, has made a substantial effort to keep her relationship with A$AP Rocky as private as possible, given their mutual mega-status. During an interview with the New York Times for her latest Savage x Fenty show, reporter Sandra E. Garcia asked if her partner liked the same pieces from the collection that she did.
Rihanna promptly shut her down: "That's none of your business."
Source: Read Full Article