Throughout history, the reigning monarch of Britain throws jubilees to celebrate milestones with family members and citizens around the world during their reign. Per the royal family's official website, jubilees had their origins in biblical times but are now more associated with the celebration of the British royal family and its achievements. 
Queen Elizabeth's Golden Jubilee was held in 2002 and celebrated her 15th year as monarch. Her next jubilee, the Platinum Jubilee, will be held in June 2022 in celebration of her 70th year as Queen of England, per BBC. However, Queen Elizabeth's Platinum Jubilee will have a lot to live up to when compared to her Silver Jubilee, which happened in 1977.
According to Elle, The Silver Jubilee marked Queen Elizabeth's 25th year in charge of the royal institution. The celebration was so epic that it was most recently featured on Season 3 of Netflix's "The Crown," with celebrations in other countries like Fiji and New Zealand. With Netflix shedding the light on it, the jubilee must've been one to remember. Find out why it was so special below.
Queen Elizabeth's Silver Jubilee was a multi-month grand celebration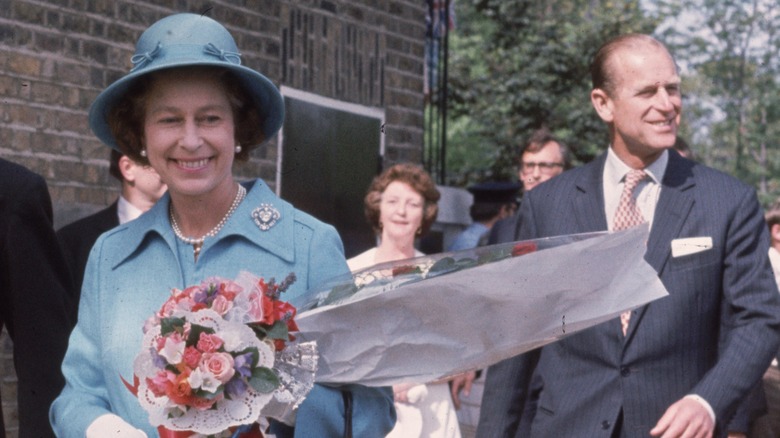 Per Royal.UK, Queen Elizabeth celebrated her February 1952 accession in churches in February 1977, but the jubilee festivities were reserved for later that summer. The Silver Jubilee was one of the biggest celebrations because it spanned multiple months and locations. Queen Elizabeth embarked on several tours in the U.K. that led her through 36 counties in England and Northern Ireland over three months.
As if that wasn't a hectic schedule, Elle noted that the queen not only paid Scotland a visit, but she also flew all the way across the world to countries like Papua New Guinea, Tasmania, Fiji, Australia, New Zealand, and more to meet with citizens before making another stop in Canada (via CBC). Though Elizabeth's itinerary was extensive, she was supported by Prince Philip, and together, they put up a united front for the country and commonwealth at the time.
Elle also reported that Elizabeth's tour stops included inspecting guards, waving to citizens in open-top cars, attending events, making speeches, and more, with a focus on unity.
Unity was the theme of the Silver Jubilee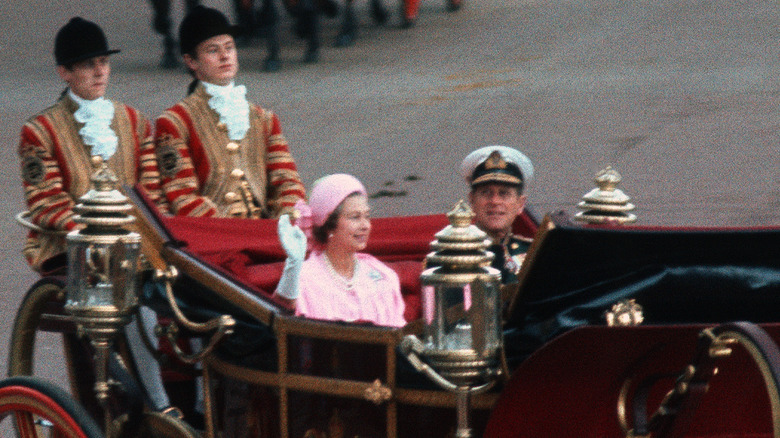 While Queen Elizabeth's worldwide tours only lasted for about three months, the real celebration started in June 1977. Per Royal.UK, Elizabeth lit a bonfire ablaze at Windsor on June 6 to encourage the nation to become united with each other. The act set off a chain reaction in the United Kingdom, with the country also burning its own fire while paying respect to the queen and to how far the country had come.
The day after the bonfire, Elizabeth rode in the Gold State Coach to St. Paul's Cathedral, where she attended a Service of Thanksgiving alongside former U.K. prime ministers and politicians from different countries. The event, again, encouraged unity and allowed leaders to celebrate with the queen, but it was what she did during lunch that shocked the nation.
Elizabeth went to lunch at Guildhall after the Service of Thanksgiving and gave a resounding speech that was watched by an estimated 500 million people across the world. "My Lord Mayor, when I was twenty-one I pledged my life to the service of our people, and I asked for God's help to make good that vow," Elizabeth famously said. "Although that vow was made in my salad days, when I was green in judgment, I do not regret nor retract one word of it." The declaration renewed her commitment to British citizens, and more than 4,000 parties were held in London after she made the speech.
Queen Elizabeth's Silver Jubilee is enshrined in history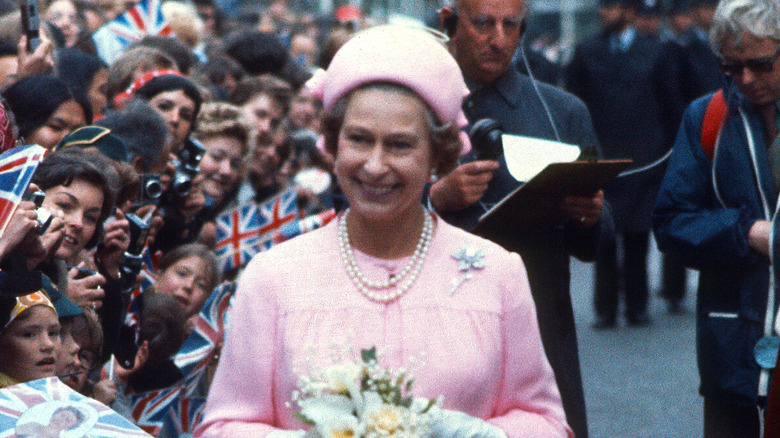 Queen Elizabeth ended her procession on June 9, 1977, when she made her trip down the River Thames from Greenwich to Lambeth (via Royal.UK). The trip was meant to pay respect to Elizabeth I's barge trips and carry on the legacy of her predecessor in both her leadership qualities and ability to unify others. The Silver Jubilee was about moving forward but also celebrating what came before. 
Elizabeth's last event was when she opened Silver Jubilee Walkway and the South Bank Jubilee Gardens. She was met with fireworks and those two places would forever be enshrined in the history of the monumental celebration. 
Elizabeth also created a charitable organization during the festivities called The Queen's Silver Jubilee Trust to help people in need with charitable donations, but it has since been renamed and rebranded as The Queen Elizabeth Diamond Jubilee Trust (via Jubilee Tribute). 
Source: Read Full Article