Roman busts, Indian carvings, Japanese textiles, birds of paradise and other exotic stuffed animals, images from mythology and the classical world, atlases, globes and artwork from Europe and across the seas: Rembrandt was a keen collector, and his cabinet of curiosities became a microcosm of strange and wonderful ephemera.
Curator Petra Kayser pictured with objects from the upcoming Rembrandt exhibtion at NGV, which will include a recreation of the artist's "cabinet of curiosities".Credit:Jason South
In the 1600s, the wunderkammer – literally a wonder chamber – was a portal to the world outside his own, providing subject matter for his art and stimuli for his imagination.
That cabinet of curiosities will be recreated in Rembrandt: True to Life, which opens at the National Gallery of Victoria in June. It's the most comprehensive survey of the 17th century Dutch artist's work to be held in Australia for 25 years.
Now regarded as one of the greatest artists of all time, Rembrandt is best-known for paintings such as The Night Watch, but he was a prolific producer of etchings. His mastery of the form created a nightmare for art historians: people could – and did – continue printing his work after his death, passing it off as original.
Curator prints and drawings at the NGV Petra Kayser devised the show, which includes 100 of those etchings, as well as paintings from the Rijksmuseum, the Kunsthistorisches Museum and the National Gallery in Washington. The works span Rembrandt's 40-year career, from the 1620s in Leiden to the 1660s in Amsterdam.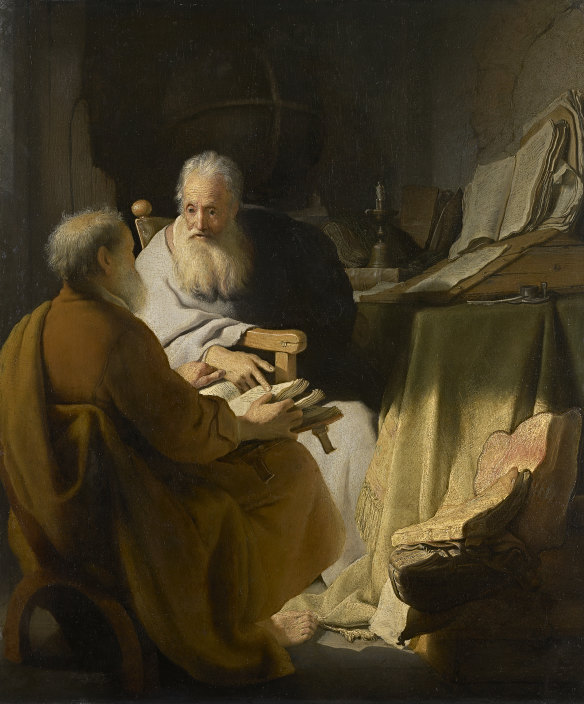 Two Old Men Disputing (1628) by Rembrandt.Credit:National Gallery of Victoria
In 17th century Holland, artists didn't have the usual patrons of art such as the Catholic Church. Instead, they relied mainly on wealthy citizens and painted for the open market. Most would specialise in one genre: still lifes or landscapes, and even very niche specialisations, painting only fish, or apples and pears, ships or animals. In stark contrast, Rembrandt tried his hand at everything.
"It's a way of securing his reputation, but it also meant students or apprentices could learn all of these skills from him," Kayser says.
"He wanted to see where he could go with every technique he used and was criticised for that. One critic famously said 'you could pick up a Rembrandt by the paint on the nose on the face' – the convention was a fine, flat finish. He really experimented with what you could bring into a painting or a print. He wanted to capture light and shade, warmth and air, and he explored and experimented with etching to see what you could get out of that medium."
An art dealer as well as an artist, Rembrandt collected madly, amassing a treasure of artworks. These were significant, allowing him to see landscapes and other artists' depictions of their realities; he didn't travel outside Holland, instead arguing that he saw enough in daily life in Amsterdam. It's also where the wunderkammer proved invaluable. He was fascinated by what other artists were doing and wanted to offer his own version.
A natural innovator, he pre-empted mass distribution by a long shot, mastering the etching which meant he could distribute his work beyond the borders of his homeland, and helping to spread his name and reputation across Europe. He started making very small etchings in 1628, according to Kayser.
"Tiny prints the size of a post-it note, he does portraits of his mother, father and himself … the more closely you look the more rewarding [they are]. He packs the emotion of a Baroque painting into these very small mediums."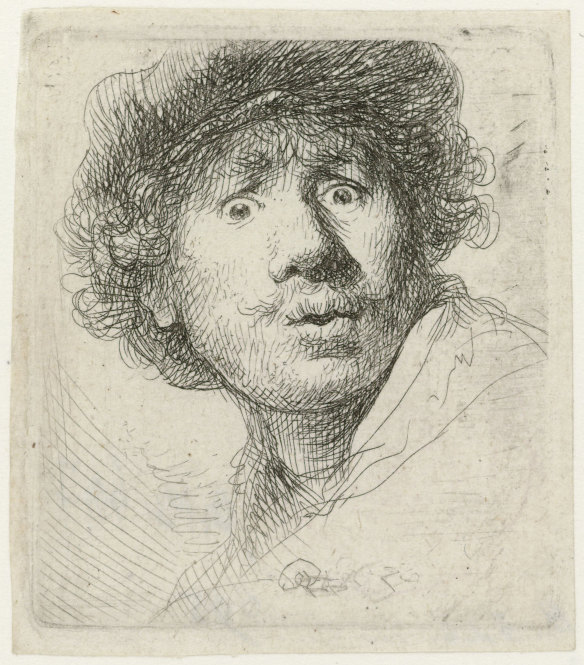 Self-portrait in a Cap, Wide-eyed and Open-mouthed, etching, 1630.Credit:Rijksmuseum
In an early self-portrait from 1630, on loan from Amsterdam's Rijksmuseum, we can see the great artist practising expressions. He looks in the mirror and makes faces, drawing himself and maybe thinking about theatre and what actors are doing, says Kayser.
"He is doing something new and original in every single print; he is reinventing and finding a different way of telling the story. Some motifs he will return to again and again, to bring out a particular element of the story or the emotion."
One of the great realists, Rembrandt drew models from life, but contrary to convention, didn't follow proportions or romanticise or idealise, invoking criticism at the time. Kayser says the attention to detail in these drawings is often extraordinary – he'd even include the indentations of their stockings and garters.
Interested in the everyday, he drew people from all walks of life, including the poorest, as well as individuals in domestic activities, such as "absorbed in an act of reading – no one does that like Rembrandt".
"He took it further than anyone else and made it a central theme in his artwork."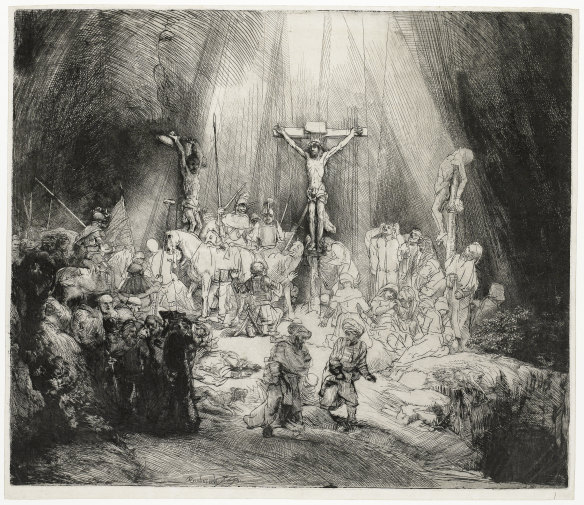 Christ Crucified Between theTwo Thieves (The ThreeCrosses) c. 1653-55Credit:NGV
In his biblical scenes, he would add a beggar, to place the work in the here and now, to make it more realistic. In another of Christ and his parents, Rembrandt depicts not the little infant baby, or the adult crucified, instead imagining and drawing a young boy and his family, looking like any other family walking along together.
As for nominating favourite works by the master, Kayser laughs, saying there are way too many. "They're so detailed. What I'm noticing is there are no cliches – it's all about gestures. They are so subtle and evocative."
"Rembrandt is a fantastic storyteller. That's really what he does, that's what ties it all together. And the inventiveness – he is completely original, even though he draws on other people's works all the time, the way he tells stories and reimagines all these stories," Kayser says. "He's been described as having a Shakespearean range – he is not just of his time but for all time, as Ben Jonson said. That's why he's so fresh. You can connect to [his works] immediately."
Rembrandt: True to Life opens at National Gallery Victoria on June 2 and will run until September 10.
A cultural guide to going out and loving your city. Sign up to our Culture Fix newsletter here.
Most Viewed in Culture
From our partners
Source: Read Full Article