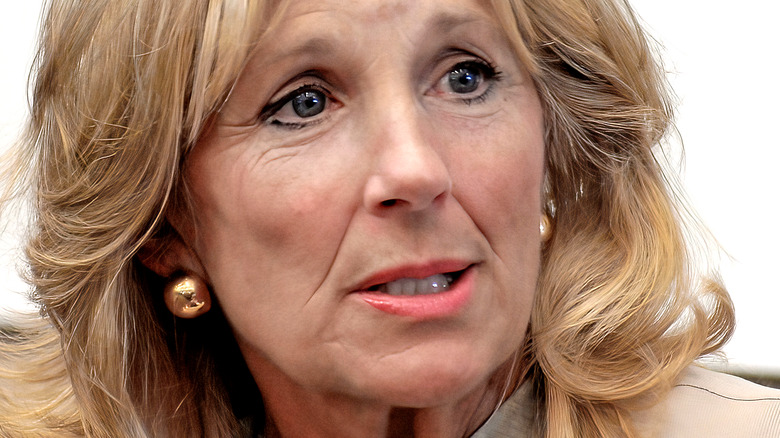 The fashion choices of first ladies are always scrutinized, and Dr. Jill Biden is no exception. Biden, who has made history by continuing her teaching job in addition to her obligations as first lady, favors outfits by American designers and has been praised for integrating sustainability into her style (via Town & Country).
Biden began her tenure as first lady with an outfit that was both beautiful and symbolic. Her inauguration night dress and coat were white and adorned with embroidered flowers — the flowers represented the official flower of every single U.S. state and territory, to send a message of unity, per Glamour. The state flower of her beloved home state of Delaware was positioned at Biden's heart. 
"Unity is the main inspiration for the creation of the ensemble," designer Gabriela Hearst explained in an Instagram post. "Unity makes strength and it is needed for the road ahead."
In June, Biden attended the G7 Summit in the United Kingdom wearing a coat with the word "Love" written across the back, per Harper's Bazaar. "I think that we're bringing love from America," Biden told reporters. Many speculated that her jacket choice was a response to Melania Trump's infamous Zara coat that read "I really don't care, do you?" which the former first lady wore while visiting migrant children at the border.
Out of all of Biden's looks, a surprising one stands out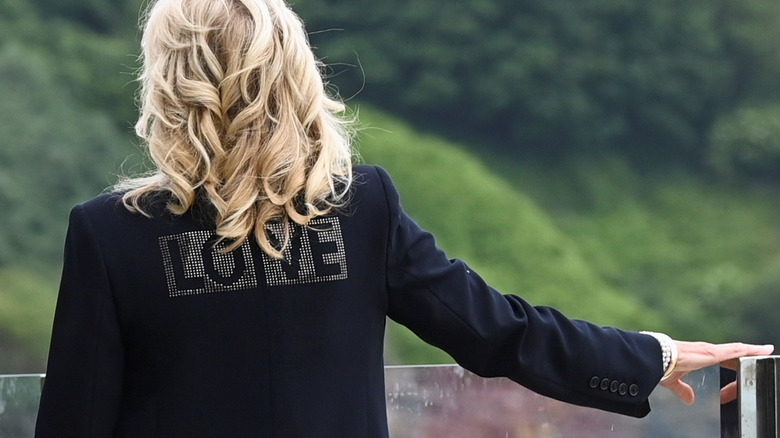 A great deal of thought clearly goes into Jill Biden's looks at events like the January 20 inauguration and President Biden's first congressional address in April, where she wore a navy version of the same flowered dress (via Today) — but the look that stands out actually wasn't meant to be a big deal.
In April, Jill Biden was photographed walking off Air Force One in an all-black outfit. She wore a black skirt, coat, booties, and patterned stockings, which conservatives criticized as "fishnets," per The Independent. Others pointed out that they were actually patterned tights — a bit more edgy than usual for the first lady, but certainly not inappropriate. Salon clarified that they were indeed "sheer tights with a geometric pattern."
Vogue described the incident as "Fishnetgate" and described the outrage as much ado about nothing. Biden responded to the backlash during a recent interview with the outlet. "It's amazing how much people pay attention to every little detail," she told Vogue. "And they weren't fishnets. They weren't lace. They were very pretty stockings."
Biden also told Vogue that she doesn't have a stylist and fashion isn't her favorite topic, but she did note that she prioritizes wearing clothes made by "young, emerging, and diverse designers." "I think that's important: You try to lift up other people," Biden said. "I like to choose from a diverse group of designers. When I was planning my inauguration outfits, that's one of the things I considered."
Source: Read Full Article