Barbra Streisand is one of the most inimitable stars of all time. Performing professionally since she was 19, Streisand has a decades long career behind her and she is not stopping soon. Her work in TV, film, music, and stage has earned her Emmys, Grammys, Oscars, and "a special Tony Award in 1970," per The Hollywood Reporter. But as famous as she is for her roles in iconic romances, including "A Star is Born," "Funny Girl," or her directorial and acting masterpiece "Yentl," for a while, Streisand excelled in her career but not her dating life.
Streisand has described herself as both "ambitious," and "lazy." She has always worked hard in her career — despite naysayers, even within her family — but she also admitted to The New York Times, "If I was having a great love affair or something, I'd say, I don't want to do anything else. I mean, searching for personal happiness was more important." Interestingly, Streisand previously told the same outlet that these love affairs meaningfully impacted how she perceived her work. Per The New York Times in 1991, "Ms. Streisand says she looks for approval from people like Marlon Brando, the film critic Pauline Kael … and 'whatever man is in my life.'" 
So, who are those men? Here is a timeline of Barbra Streisand's love life.
How Barbra Streisand met Elliot Gould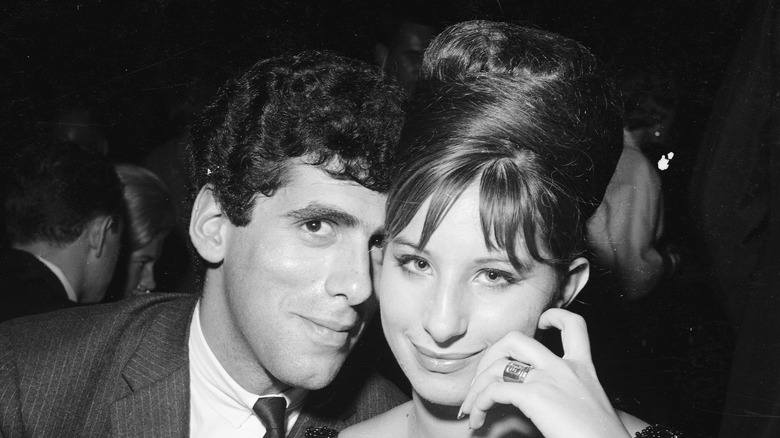 Barbra Streisand started singing as a way to get into acting. At just 19, her various gigs singing in nightclubs garnered her an opportunity to audition for a play called "I Can Get it For You Wholesale." The leading man? Elliot Gould. Already cast for the role, Gould was at her audition and felt a connection instantly. "She's presenting herself just like how I think and feel about me," he recalled to Yiddish Book Center. He was struck by her, and he told CBS Sunday Morning: "[Streisand] announced her phone number and she said, 'Would somebody call me?' I remembered her number and I called her." Sounds like love at first sight.
Both rising stars, they bonded during auditions and slowly sparked up a relationship. Soon after their romance began, the two were living together in lower Manhattan — a step up for Barbra, who had spent much of her early career couch surfing since she was 16. The 1962 show on which they met went on to be a huge success, which bode well for both of their future careers. Soon, Gould and Streisand became a beloved celebrity couple. Though they were new to the industry and living in a small downtown apartment, Gould once told Playboy (via Independent): "The happiest memories I have of Barbra are when we were living together before we were married." Unfortunately, things were already on the rocks when the two had their son, Jason Gould, in 1966.
Why did Barbra Streisand and Elliot Gould get divorced?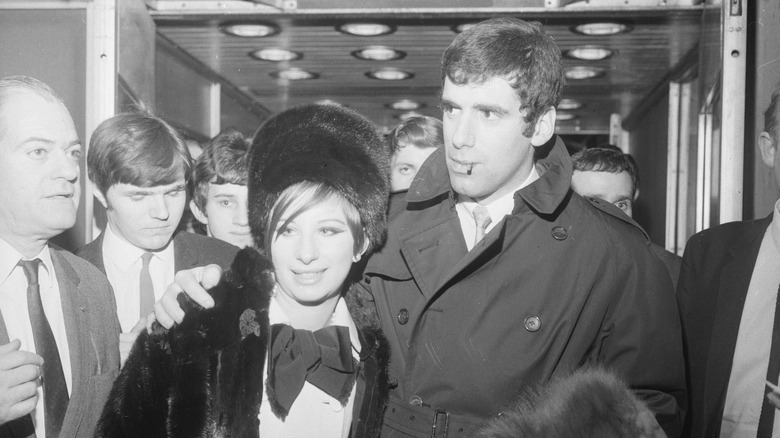 Barbra Streisand and Elliot Gould separated in 1969 and eventually divorced in 1971. While they had started the relationship on equal footing, Streisand had quickly proved herself to be the brighter star of the two — immediately earning a Tony nomination for her role in "I Can Get it For You Wholesale" and proceeding to get a flurry of job offers. Reflecting back on their relationship in a 2020 interview, Gould told CBS Sunday Morning: "We didn't grow together, and the reason for that was because she became more important than us." Exhausted, Gould (often referred to as "Mr Streisand" at the time) could not take living under Streisand's shadow any longer.
Gould has often been vocal about his feelings about Streisand's success. He told the Independent, "It was difficult to be married to someone who was married to their success. I was very young, she was very young, and we went as far as we could together." He also mused about her extreme celebrity in an interview with Aish, saying, "I had no understanding of why anybody would want to make themselves into something that isn't real. Why would anybody want an identity that makes itself an illusion bigger than life?" 
Despite the couple's troubled final years together and Gould's inability to reconcile the magnitude of Streisand's career, he claims he has no hard feelings about their marriage and is grateful for what they had together, especially their child. 
Barbra Streisand's scandalous affair with Omar Sharif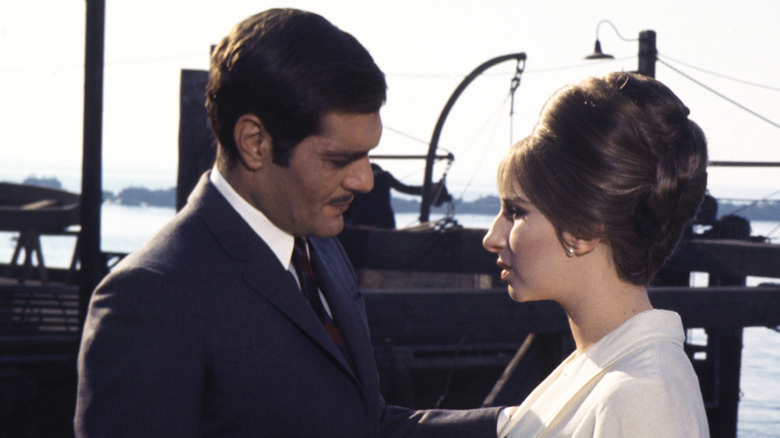 The rift between Barbra Streisand and Elliot Gould might have partly been caused by Streisand's rumored affair with "Funny Girl" costar Omar Sharif. Streisand was originally cast in the Broadway production of the same name, starring as Fanny Brice, and later won an Oscar for playing the same role in the 1968 film adaptation. But "Funny Girl" didn't only generate buzz for its awards — the on set drama garnered international attention.
As Sharif and Streisand's characters, Nick Arnstein and Fanny Brice, carried out a romance, so did the actors. Sharif's grandson later told Mirror that his father "really loved [Streisand]," adding that "he spoke so fondly of her." In interviews, Sharif has admitted to wanting to change his life for Streisand — even willing to convert to Judaism but not willing to move to New York. "I loved Barbra for three months, he told the Irish Times. "She was crazy."
But not everyone was rooting for the romance. Given that Streisand was married to Gould, the affair was already couched in secrecy before the international political scandal ensued. Even the fictional relationship between Sharif, an Egyptian, and Streisand, a Jewish woman, was enough to get the movie banned in some international theaters. In fact, according to the Los Angeles Times, the pair's onscreen kiss was so incendiary, Sharif nearly lost "his Egyptian citizenship."  
Barbra Streisand dated high profile men after her divorce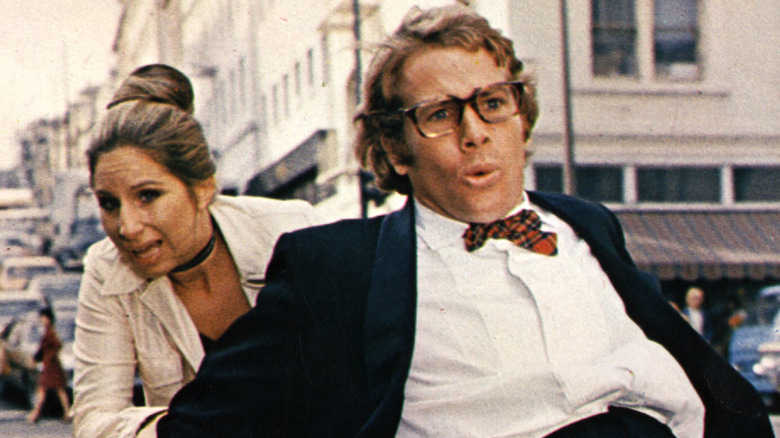 In the wake of both her separation from Elliot Gould and her 1969 Oscar win for "Funny Girl," Barbra Streisand landed film role after film role. One of Hollywood's most promising stars, Streisand's rising fame gave her the opportunity to connect with the upper echelons of society, and, as a self-admitted lover of love, she pursued multiple high profile relationships post-Gould. In 1969 and 1970, she dated then-Canadian Prime Minister Pierre Trudeau, father of Justin Trudeau. According to the posthumous biography "Pierre: Colleagues and Friends Talk about the Trudeau They Knew," the two met in London while Streisand was on the heels of her "Funny Girl" success. "There was a strange serendipity in our meeting," Streisand wrote, adding, "He was everything my imagination promised and more."
Streisand was also briefly involved with her "What's Up, Doc?" co-star, Ryan O'Neal — which is no surprise considering the first time she saw him on screen, she said (via The New York Times), "I want him." While she was referring to his acting prowess, Streisand also snagged the former boxer as a romantic partner while filming the slapstick comedy. During that time, Streisand was also linked to Warren Beatty, who,  according to "Kathy Griffin's Celebrity Run-Ins," insists he shared a "handsy" incident "in the backseat" of a car with the "Memory" crooner. As for Streisand, she insists the two were always just friends.
Did Barbra Streisand give Jon Peters his career?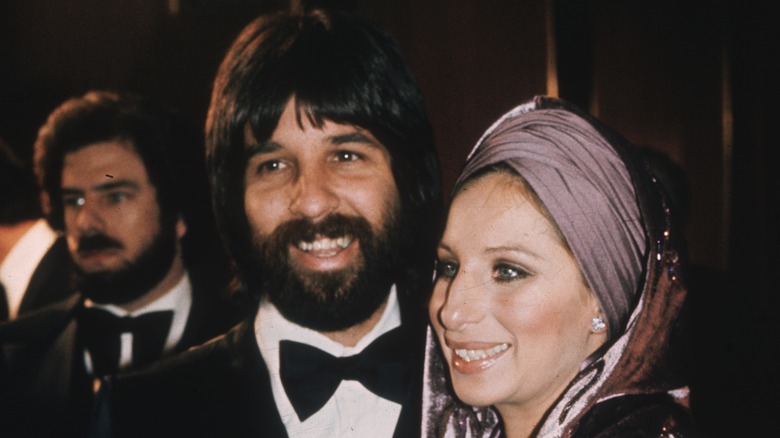 Barbra Streisand entered into a long-term partnership with Jon Peters in 1973. Peters started in his family's business as a fame-hungry hairdresser. He went from Streisand's wigmaker to her lover and friend, then quickly began pursuing other creative outlets with the singer-turned-actor at his side. He eventually landed as a movie producer on "A Star is Born" — his first production credit on a feature film. The movie was a massive success, achieving a lucrative commercial release as well as Academy Award and Grammy wins, and gave Peters his much yearned-for pedigree in the business, which he eventually parlayed into roles at the head of major studios. He credits much of his success to his relationship with Streisand. "I owe her," he told The Hollywood Reporter in a 2017 interview. "I will always owe her for giving me the life that I've had."
Just as Streisand's character in "A Star is Born" is plucked from obscurity and introduced to the world of fame, Streisand did the same for Peters. But their relationship was volatile and unstable. The two had love for each other but eventually split. In 1983, after her directorial debut with "Yentl," Streisand told People about their demise. "I was passionately involved in 'Yentl,' and neglecting him. We had also been too dependent on each other. And you come to resent dependency. We needed to be apart." But the two have remained close. Peters even told The Hollywood Reporter, "She was probably the love of my life."
Barbra Streisand's alleged on-set affairs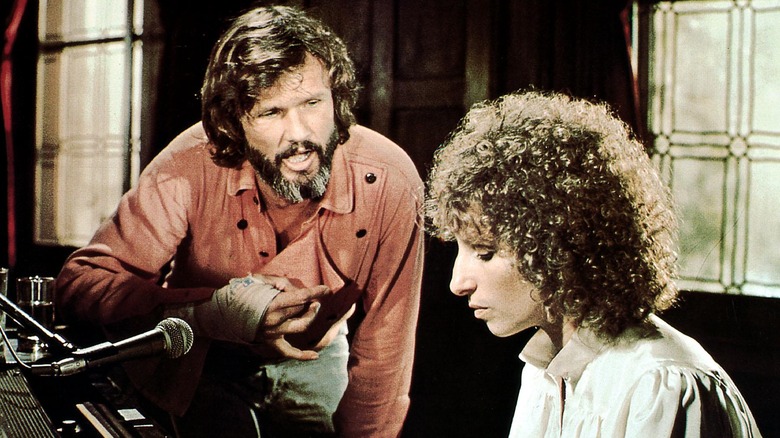 From marrying her first theater costar, Elliot Gould, to her affair with Omar Sharif while filming "Funny Girl," Barbra Streisand has allegedly carried out a number of rumored on-set affairs. In 1973, she starred alongside Robert Redford in "The Way We Were." According to the book "Barbra Streisand: Redefining Beauty, Femininity, and Power," a source claimed: "It was obvious Barbra was just too, too crazy about Bob. She had a hard time controlling her emotions, and when she played scenes with him, like the fireside courtship scene in Malibu, she was drooling." Redford told Oprah in 2010 that he was enticed by Streisand before he even met her. "I thought she was really, really good," he said after seeing her perform. "Really talented. Unusual. I found her attractive in that way."
Streisand also had a rumored relationship on the set of "A Star is Born" with Kris Kristofferson. The award winning film was successful in part because of the palpable chemistry between the actors — no wonder rumors swirled around them. Though Kristofferson's wife had a cameo in the film and Streisand's then-partner Jon Peters was a producer, the two seemed close and struck up a lasting friendship, if not more. On set, Kristofferson was in awe of her — but also a little wary. He admitted he was "scared to death of her," according to People (via Barbra Streisand Archives), but also revealed, "it's exciting to work with someone who has that much talent."
Barbra Streisand's relationship with Richard Baskin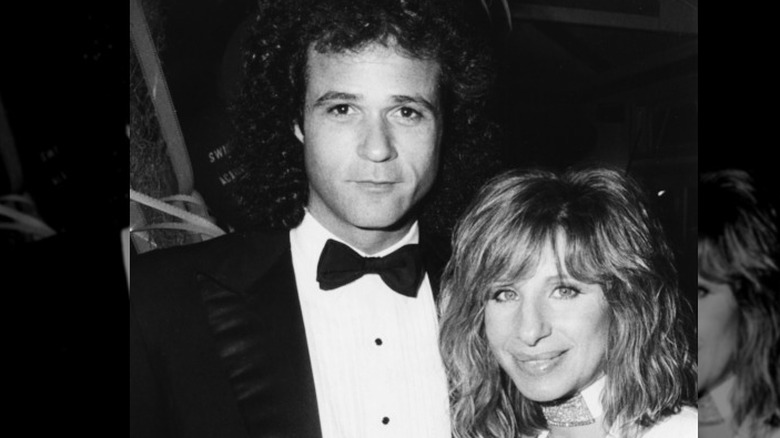 Barbra Streisand met Richard Baskin in 1983. Baskin may be best known for his family name — one half of the ice cream empire, Baskin-Robbins — but Baskin was also passionate about music. As a burgeoning songwriter, he and Streisand soon started up a creative relationship before beginning a romance. In 1984, he produced and composed tracks on the album "Emotion" for Streisand, as well as two more for her 1985 release "The Broadway Album." Baskin even got her cast in the 1987 film "Nuts." An adaptation of a play Streisand had dreamed of starring in, she told Variety (via Barbra Archives) that she landed the role due to her then-beau. Baskin was friends and tennis buddies with the then-President of Warner Brothers, and, according to Streisand, "Richard mentioned that I always loved that play and wanted to play [Claudia]. So somehow I got offered the role because of Debra Winger falling out." 
Streisand broke things off with Baskin in 1987, shortly after the premiere of "Nuts," but the two have remained friends and have even worked together since. Though Streisand allegedly dumped him for her ensuing lover, Don Johnson, nothing is off limits in their conversation — even him. "Once you have loved someone — and how rare it is to love someone — to me you should want to keep that person in your life forever," she told Ladies' Home Journal (via Barbra Streisand Archives). "How could you not be very close friends?"
A string of short term relationships in the 80s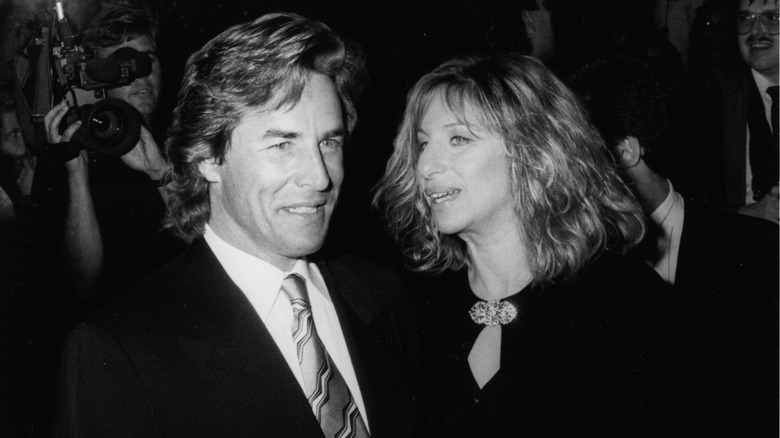 The 80s saw Barbra Streisand put out six separate musical releases — winning awards for the "Yentl" soundtrack — alongside making her directorial debut with "Yentl" and starring in 3 films: "All Night Long," "Yentl," and "Nuts." But Streisand's personal life was also similarly exciting during those years, with a string of highly publicized relationships. From 1980 to 1983, Streisand allegedly dated Richard Gere, a verifiable 80s era heartthrob and coveted Hollywood leading man. She was also linked to the similarly iconic actor Clint Eastwood in 1989.
The most surprising of Streisand's short-term relationships of the decade was her unlikely pairing with Don Johnson. Though their relationship was short lived, it was meaningful to Streisand for more than the thrill of dating a man who earned the reputation of an irresistible heartbreaker. As she told Ladies' Home Journal (via Barbra Streisand Archives), "[Johnson is] often misinterpreted and called tough and difficult — and it's not true. That is one of our common bonds." Johnson felt the same, according to his friends, one of whom told People that "Don is totally in awe of Streisand," and that the hotshot ladies man got "gooey-eyed" around her.
At the time, Johnson was the star of "Miami Vice," and their year-long whirlwind romance culminated in a Streisand cameo on the show — a far cry from her own award-winning pursuits, but oh the things we do for love.
No, Barbra Streisand did not date Steven Spielberg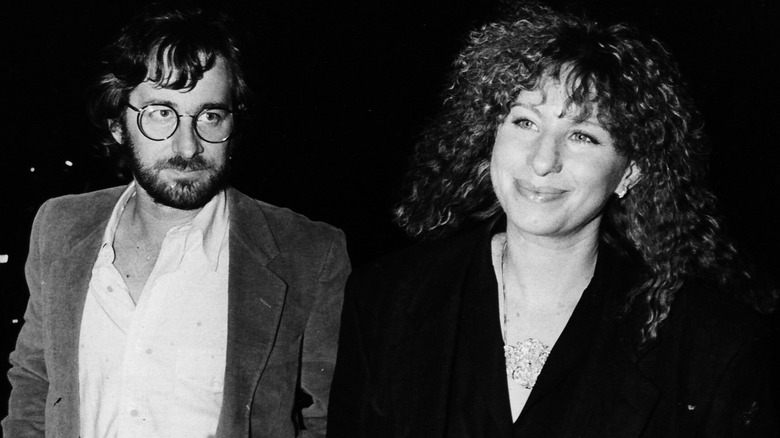 One of Barbra Streisand's most notable rumored relationships in the 1980s was with the legendary Hollywood director Steven Spielberg. Both are giants in their fields, and their mutual respect for each other — to Streisand's chagrin — was presented as a romance. Spielberg had been a vocal fan of her work, and when she made "Yentl," a feat of a directorial effort as well as a powerful acting performance, she showed Spielberg a rough draft. He raved about it, assuring her it was "the best film debut since 'Citizen Kane'" (via "The Barbra Streisand Scrapbook").
Their working relationship and close friendship caused much speculation. Streisand was not amused by the assertions. Trying to establish herself as a serious director, and facing sexism at every turn, the claims about their romance and his involvement in her filmmaking insulted her. "Steven's a friend of mine," she impressed to Ladies Home Journal (via Barbra Streisand Archives), adding, "A friend of mine. Do you know that one tabloid had me breaking up his impending marriage. That's ludicrous!"
Nevertheless, the two have kept up a strong friendship. They even both received the Presidential Medal of Freedom together in 2015. Alongside a cohort of other worthy recipients, former President Barack Obama bestowed them with the medal — fitting that the two lifelong friends were able to share the moment with each other.
Barbra Streisand's flings in the early 1990s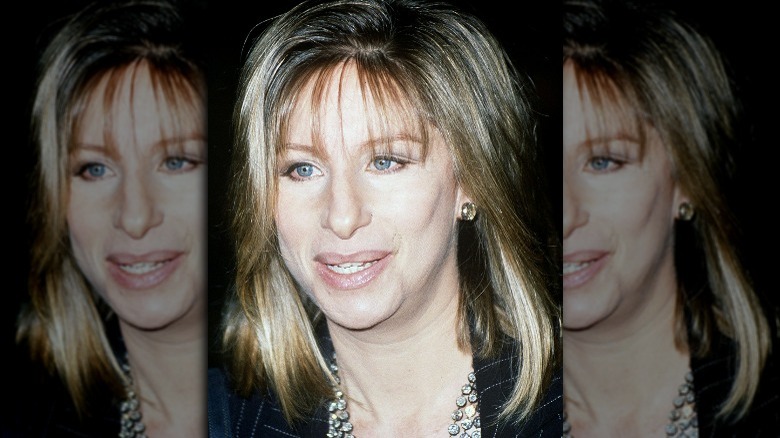 At the tail end of the 80s, after dating Don Johnson, Barbra Streisand was linked to James Newton Howard. Though the two high profile musicians tried to keep their relationship private, such bright stars will always attract attention. Howard was a famed composer who worked with Streisand on "The Prince of Tides," a project made possible thanks to Streisand's ex, Jon Peters, who co-chaired Columbia Pictures Entertainment at the time.
Although Howard only went so far as saying he and Streisand were "very close friends," he did tell Vanity Fair in 1991 (via Barbra Streisand Archive), "There is no one like Barbra and I'd be very sad if I didn't have a relationship with her in some form in my life." Their alleged relationship ended quickly, and Streisand reportedly moved on to dating Liam Neeson for a brief moment from 1991 to 1992.
Streisand then dated Andre Agassi in 1992. Agassi was one of the most successful but controversial tennis players of the time, and he was only in his early 20s while Streisand was 51. In his autobiography, "Open," Agassi famously compared dating the legend to "wearing hot lava," adding that he was amused by the "scandal [their] dates caused." Streisand however seemed to deny their relationship, lamenting to Vanity Fair: "Because I go to see Andre Agassi play at Wimbledon, they write that I'm his girlfriend. Then they write that he 'left' me for Brooke Shields. It's ridiculous."
Barbra's relationships in the late-1990s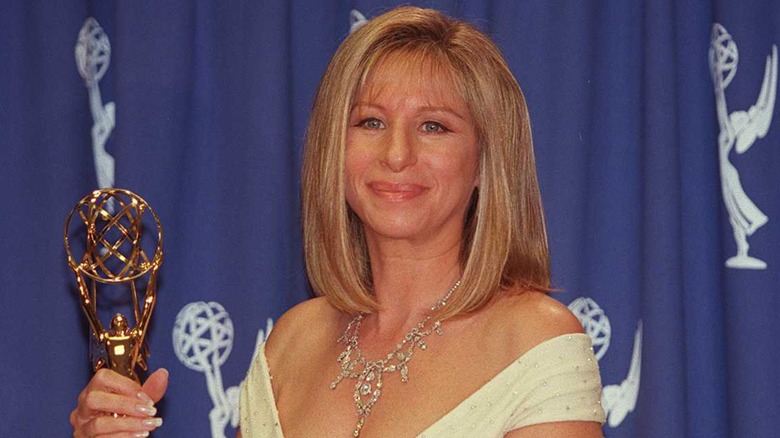 Barbra Streisand's star power enticed more and more suitors, but most did not last long. Her alleged (and brief) relationship with reporter Peter Jennings hit the tabloid radar after the two appeared together at a prestigious White House dinner for Bill Clinton. The press went wild. "What I find is that the media destroys relationships before they can even begin," she said to Vanity Fair, reluctant to talk about her relationship with Jennings. "They write horrible things, they assume things." But later, Streisand seemed more nonchalant and said to Mirabella (via Barbra Streisand Archives) that she just "saw [Jennings] a few times." A friend told Vanity Fair it was part of the paradox of dating Streisand: "If you get a man who doesn't mind, and is weak, then you begin to hate him for it. If you get a Peter Jennings, you'll annoy the sh*t out of them." 
Streisand was also linked to Jon Voight in the late 90s. The two met when they were both young stars on Broadway, Streisand in "Funny Girl" and Voight in "The Sound of Music." Voight insists that he and Streisand have always been friends. "I'm crazy about her … but we're not a couple," he told The Morning Call. But he also never ruled out a relationship, saying, "Who knows what will happen?" Some sources have also linked Streisand to Peter Weller, fellow actor most famous for his role as "RoboCop."
Barbra Streisand could have been royalty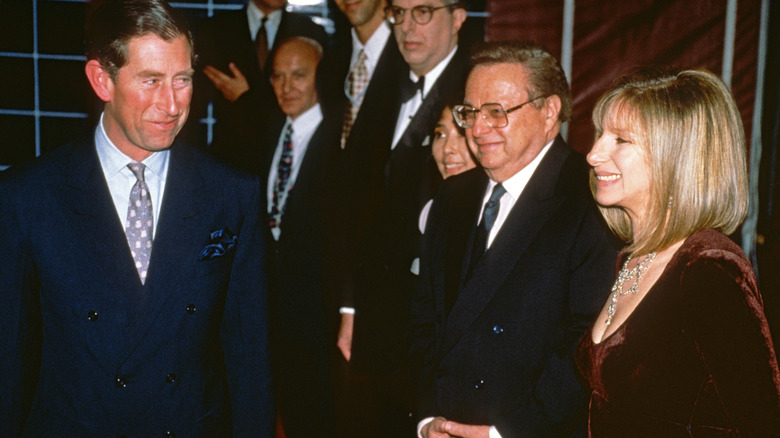 Most young girls dream of stepping into a fairytale where they get to marry the handsome prince. For Barbra Streisand, this storybook fantasy was allegedly almost real life. One of her rumored exes is Prince Charles, of the British royal family. The gossip mill started churning about an alleged affair between Prince Charles and Streisand a few years after his public split with Princess Diana in 1992. Royal biographer Christopher Andersen told Inside Edition that although the two had met in 1974, it wasn't until 1994 that "they had a secret rendezvous at the Bel Air Hotel that no one knows about." At a 2019 performance in London, Streisand seemed to poke fun at the rumors, telling the crowd (via the Daily Mail), "If I had played my cards right, I could have been the first Jewish princess." 
Prince Charles wasn't the only powerful man reportedly in Streisand's life. Anderson also alleged in his book "Barbra – The Way She Is" (via the Daily Mail), that the singer possibly had an inappropriate relationship with the once-leader of the free world, Bill Clinton, who still calls her his favorite singer. In another alleged royal connection, Anderson linked Streisand to Dodi Al Fayed, who died alongside his then-lover Princess Diana. Though these rumors are particularly unfounded, it would make sense if such notable figures gravitated to Streisand, as she never had much luck among average joes. Why? "There's a certain amount of intimidation and fear," she told W in 2016.  
How Barbra Streisand and James Brolin met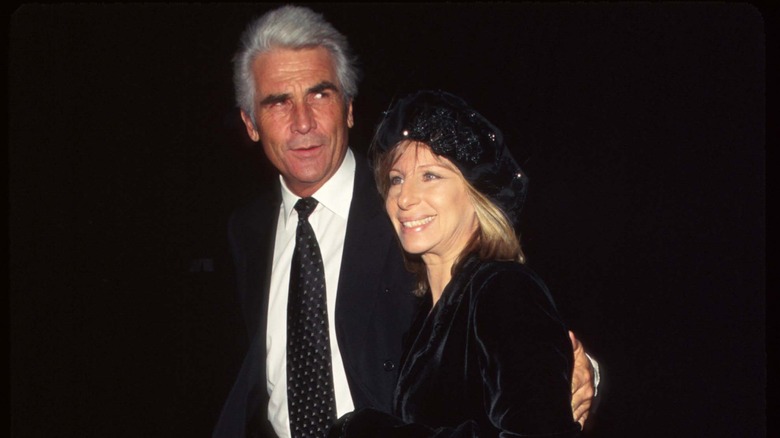 Barbra Streisand finally found the lasting love she yearned for with James Brolin. Streisand met Brolin shortly after directing "The Mirror Has Two Faces" in 1996. In the film, Streisand's character is an overlooked, homely woman who nevertheless winds up with the male lead. In some ways, Streisand sees this as a reflection of her life — especially considering she met Brolin soon after making the film. "You dream the film and then you manifest the film," she told the Los Angeles Times about the serendipity of their meeting and falling in love. She also believes in some sort of divine timing, saying she met Brolin exactly when she needed to, rather than regretting not meeting him sooner. "I couldn't have met him while I was making this movie. I wouldn't have been open."
In fact, a connection to her ex-boyfriend Jon Peters was the one who introduced the couple. Streisand wasn't eager to be set up, entrenched as she was in her work, but meeting Brolin at a dinner party thrown by Peters' ex-wife Christine shifted her priorities. Immediately, Streisand was smitten — and Brolin was in the same boat. Her brash, brazen attitude charmed him immediately. "That's when he fell in love with me. My fella likes to hear the truth," she told W. According to Streisand, Brolin told her on the night they met, "I'm taking you home with me," and immediately, the trajectory of her life changed.
Barbra Streisand's marriage to James Brolin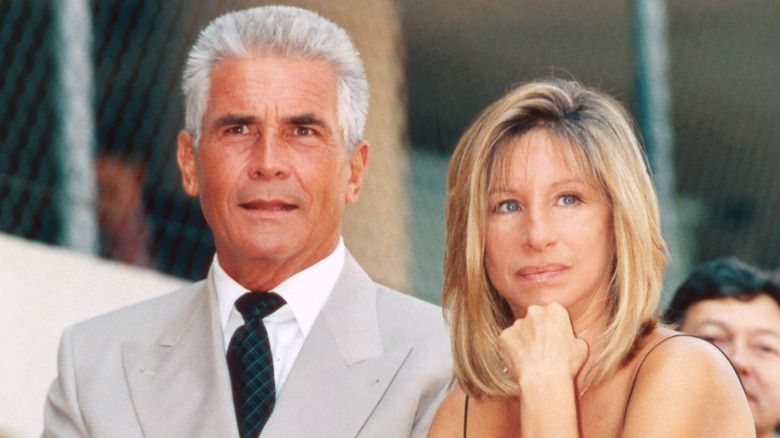 After decades of dating, a failed marriage, and a fizzled long-time partnership, Barbra Streisand has been in a lasting relationship with James Brolin since 1996 — and they're still going strong. People "dared to say it wouldn't work," Brolin said on "The Talk," describing how the two are opposites that complement each other. Part of why the two work so well is that they've both been married and divorced before, and so they're invested in keeping the spark alive. From separating their bank accounts to respecting each other's schedules, they seem in sync in their lives and careers. They leave room for playfulness, too, they told ET. Streisand, who can go through intense phases of work, makes sure to show her appreciation. Brolin told the outlet, "I always get notes, 'Hurry home!' When I get there, there's always something kind of great waiting for me."
At this phase of their lives, the couple is focused on appreciating the life they have together. In fact, Brolin even told "The Talk" that during quarantine, which they spent in their giant Malibu abode, they had "literally fallen in love" while spending so much time together. Streisand is also prioritizing her relationship and loved ones over her career. "I'm enjoying my grandchildren and there's nothing like family and home and pure love and joy and connection," Streisand told Variety in 2021. "That is the most important thing to me now."
Source: Read Full Article