From unmissable to utterly skippable
Photo: Searchlight Pictures
Wes Anderson's "The French Dispatch" is an utter delight. It's one of the director's very best films, bursting with a barely contained effervescence (and many, many movie stars). It's also a first for the director – his first true anthology film. (Yes, the elaborate framing devices that housed "The Grand Budapest Hotel" made it feel like an anthology, but it was all part of an organic whole.)
You can feel Anderson invigorated by the possibility of the anthology format, and he certainly maximizes that possibility – the movie shifts from black and white to color (and back again) and frequently hopscotches between aspect ratios, with detours into both stop-motion animation and 2D animation (undoubtedly computer-generated, but with the charm of more traditional, hand-drawn animation). It is a riot, in every sense of the word.
And as is the case with most filmed anthologies (I'm looking at you, "Creepshow"), there are some segments that are better than others. Below, we rank every story from "The French Dispatch," from the worst to the best.   
5. Revisions to a Manifesto by Lucinda Krementz
https://youtube.com/watch?v=_200CA5GrwY%3Ffeature%3Doembed
Even the worst story in "The French Dispatch" is still pretty good. Such is the case with "Revisions to a Manifesto." In this section, Lucinda Krementz (Frances McDormand) embeds herself in a youth revolt led by Zeffirelli (Timothée Chalamet) and then becomes a little too close to her subjects – both by starting a relationship with Zeffirelli and by copyediting his manifestos. It's a charming enough premise, full of performers new to Wes Anderson's traveling circus who take to the material swimmingly (besides Chalamet and McDormand, Christoph Waltz makes a lively addition), and an elaborate police-standoff-as-chess-match that only Anderson could have conceived. But it's the lone section of "The French Dispatch" that actively drags. Maybe it would have inched up the list had it been five minutes shorter.
4. Obituary by French Dispatch Staff
We're including both the introductory section (which gives a spotlight to Anjelica Huston's great narration) and a brief epilogue at the end of the movie in this section, since they are both dedicated to the nuts and bolts of the magazine and the event that brought all of the writers together – the death of its editor, Arthur Howitzer Jr (Bill Murray). (This isn't a spoiler, you learn about his passing seconds into the movie.) These sections are notable for a number of wonderful actors who don't appear much elsewhere (Elisabeth Moss, Jason Schwartzman, Fisher Stevens and Griffin Dunne among them) and for supplying the movie with a thread of melancholy. (As if we needed another reason to be bummed about the publishing industry.) If, for some reason, you aren't completely wowed by the rest of the movie, then you should at least appreciate the emotional oomph of these brief sections.
3. The Cycling Reporter by Herbsaint Sazerac
https://youtube.com/watch?v=ZLCsJR63Ng8%3Ffeature%3Doembed
The first true story we get in "The French Dispatch," from the hyperbole-prone Herbsaint Sazerac (Owen Wilson), is the perfect table setter, as he goes around the fictional town of Ennui (actually Angoulême in southwest France), colorfully describing various locations and residents. Wilson gives it his all, brilliantly combining stunning wordplay with broad physical comedy, as Anderson throws every visual tic he can – buildings vanish and recede, revealing dollhouse dioramas; the camera cranes and pans with supernatural verve. While this section lacks a central conflict, Wilson is so compelling and the filmmaking is so outstanding that it doesn't really matter – it's the perfect story to set the mood, energy and temperature of "The French Dispatch." And for that we must give thanks.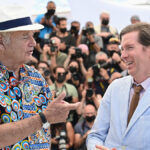 2. The Concrete Masterpiece by J.K.L. Berensen
https://youtube.com/watch?v=sqAKv2W-HhE%3Ffeature%3Doembed
"The Concrete Masterpiece" takes center stage via a lecture by J.K.L. Berensen (Tilda Swinton), a buck-toothed staff writer at the French Dispatch, who recounts the exploits of Moses Rosenthaler (Benicio del Toro), an imprisoned artist who becomes a sensation in the outside world. While Swinton is stuck in buffoonish caricature mode (did she really need the fake teeth?), the rest of the cast is impeccable – from Adrien Brody reminding us of how good he can be as a similarly imprisoned art dealer, to Léa Seydoux as the prison guard who becomes his muse and lover, to Bob Balaban and Henry Winkler as Brody's erstwhile business partners. Seydoux in particular feels like a revelation, especially after being so shortchanged by the most recent James Bond outing. Here, she's everything she wasn't in "No Time to Die" – fully formed, with contradictions and desires and a strong inner drive. Also, unlike in "No Time to Die," she actually has chemistry with del Toro. (By the way, it's so refreshing to see a Wes Anderson confection anchored by a nonwhite actor. Del Toro, bearded, growing, and self-destructive, fits in seamlessly.) This section also features one of the coolest visual tics in the entire movie – a series of "frozen" tableaus where Anderson simply has everybody freeze while he moves the camera through the set. (There are some old-school techniques he uses too, which are divine, like a character firing a gun and the "smoke" being braided cotton.) "The Concrete Masterpiece" would be hard to top, were it not for …
1. The Private Dining Room of the Police Commissioner by Roebuck Wright
https://youtube.com/watch?v=mr1GnDnv7WQ%3Ffeature%3Doembed
This vignette, the final full segment before the bittersweet wraparound bit, is the undeniable highlight. Framed by a late-night talk show appearance (the host is smooth-talking Liev Schreiber), Roebuck Wright (Jeffrey Wright, another Anderson newcomer and maybe the most essential) recounts his coverage of a chef and police officer (Stephen Park) who makes ingenious, delicious meals out of whatever is around in the station. Of course, on the night of his coverage, the son of The Commissaire (Mathieu Amalric) is kidnapped and the entire night is thrown into chaos. The most gleefully unhinged, dynamic installment in the movie — this is the section that includes a car chase rendered completely in newspaper comic-style animation — is also the most poignant and affecting, thanks largely to Wright's performance and the satellite of actors that enter his orbit (including Edward Norton as one of the kidnappers, Willem Dafoe as a noteworthy prisoner and Saoirse Ronan as a loathsome showgirl). This is "The French Dispatch" at its intoxicating best. And the fact that Wright has already been secured for Anderson's next film, "Asteroid City," speaks volumes.
Source: Read Full Article