Sophie Turner spent most of her career playing Sansa Stark. She gained many fans through the role, but there is something stopping her from wanting to continue with it. What is it? Here is everything you need to know. Warning Season 8 Spoilers!
There are no Game of Thrones sequels in the works
There are multiple prequel shows in the works. However, there aren't any spinoffs of the original characters.
"Nope, nope, nope. No. Part of it is, I do want this show — this Game of Thrones, Dan [Weiss] and David [Benioff]'s show — to be its own thing," HBO programming president Casey Bloys told The Hollywood Reporter. "I don't want to take characters from this world that they did beautifully and put them off into another world with someone else creating it. I want to let it be the artistic piece they've got."
He said that's not the only reason they won't be exploring the characters anymore. "That's one of the reasons why I'm not trying to do the same show over. George [R. R. Martin] has a massive, massive world; there are so many ways in. That's why we're trying to do things that feel distinct — and to not try and redo the same show. That's probably one of the reasons why, right now, a sequel or picking up any of the other characters doesn't make sense for us."
The Game of Thrones ending was pretty controversial. However, there is one ending fans were generally happy with that could lead to a spinoff.
Sansa Stark ends by becoming the Queen in the North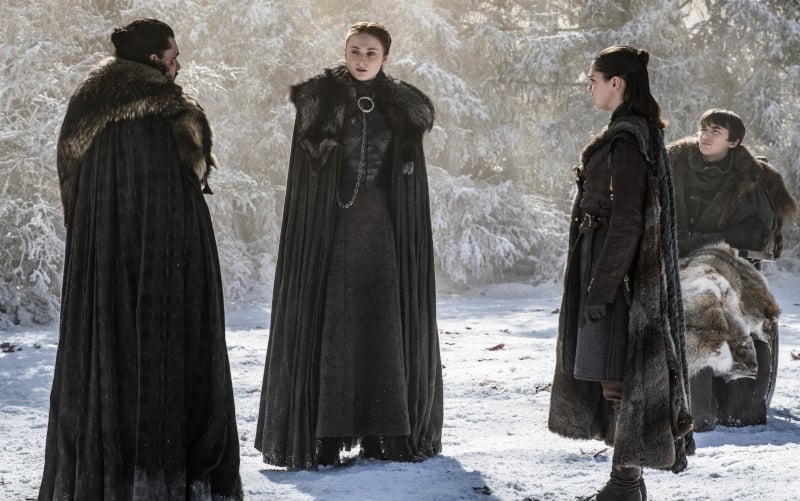 The character started out hoping to marry Joffrey Baratheon one day and becoming queen. Her journey involved many other things instead from being his prisoner to marrying another sadistic character. How that played out got some backlash from fans along the way, but Sansa Stark did get a happy ending.
Bran Stark became the ruler of the many kingdoms. Sansa insisted on the North keeping its independence and it was granted. She then got to be the Queen in the North.
The last episode showed her coronation. Fans were happy with that ending, but some probably wouldn't complain if Sansa got her own spinoff. Sadly, Turner isn't interested in doing one.
Turner said she's happy with how her character ended
A lot of fans are hoping to see the Game of Thrones characters again. Turner said she wouldn't want to return to her character for a reason.
"I think it's time to say goodbye to Sansa. I'm ready-ish to say goodbye to her," she said on Sky News. "I think my watch has ended." Turner said that she is "happy" with how her character ended.
Another reason seems to be that she already invested so much time into the role. "I just think, you know, it's been 10 years of my life and the best 10 years of my life by far, and I finished in a very happy place with Sansa, and it's time to let her go," she said. "I feel like if I played her again it would just be more trauma."
Turner is now moving on to other roles. Her newest movie, Dark Phoenix is being released in theaters on June 7.
Source: Read Full Article