Inside the NHL's New TV Era: Can ESPN, Turner and Streaming Net More Viewers?
Getty
Mark Harmon's Final 'NCIS' Episode Leads CBS to Tuesday Viewer Victory
But net ended up in a three-way tie for second place in ratings among adults 18-49
Mark Harmon has left "NCIS," taking his final bow to an average of 7.4 million "live" viewers last night. That was the largest audience for any broadcast-primetime show on Monday.
"NCIS" was less of a hit among adults 18-49, and CBS settled in a three-way ratings tie for second place in that demo.
Continue reading
Join WrapPRO for Exclusive Content,
Full Video Access, Premium Events, and More!
Harmon played Leroy Jethro Gibbs, the leader of the NCIS gang, on all 18 seasons (plus four episodes) of the massively successful CBS procedural drama. The timing of his departure came as a surprise, so expect the farewell episode to grow substantially in delayed viewing. Per this earliest Nielsen snapshot, "NCIS" is down week to week.
"As an executive producer and dear friend, Mark continues to be an integral part of the fabric of the show. Our north star has always been staying true to our characters, and that truth has always guided the stories we tell and where those characters go. So regarding the future of Gibbs, as long-time fans of the show may have noticed over the years…never count Leroy Jethro Gibbs out," "NCIS" Showrunner Steven Binder said in a statement provided to TheWrap on Monday.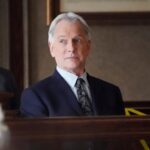 ESPN's "Monday Night Football" game aired on NBC in Baltimore and on The CW in Indianapolis, making the below first wave of Nielsen numbers for those networks subject to adjustment.
NBC was first in ratings with a 0.7 rating in the advertiser-coveted 18-49 demographic and second in total viewers with an average of 5.5 million, according to preliminary numbers. "The Voice" from 8 p.m. to 10 p.m. earned a 0.9 rating and 6.8 million total viewers. "Ordinary Joe" at 10 received a 0.5 rating and 3 million total viewers
CBS, ABC and Fox tied for second in ratings, each with a 0.5. CBS was first in total viewers with 5.8 million, ABC was third with 4.1 million and Fox was fourth with 3.2 million.
The CW was fifth in ratings with a 0.1 and in total viewers with 496,000.
More to come…