Michelle Young and Nayte Olukoya instantly had a strong connection in The Bachelorette Season 18 premiere. The suitor made such a strong impression that he earned the first rose. Nayte has made it to the final two with fellow contestant Brandon Jones. But is Nayte ready to commit to Michelle and get down on one knee? Here is everything we know about Nayte and Michelle's future.
[Spoiler Alert: This article contains spoilers from The Bachelorette Season 18 Episode 9]
Is Nayte Olukoya ready to fully commit to Michelle Young?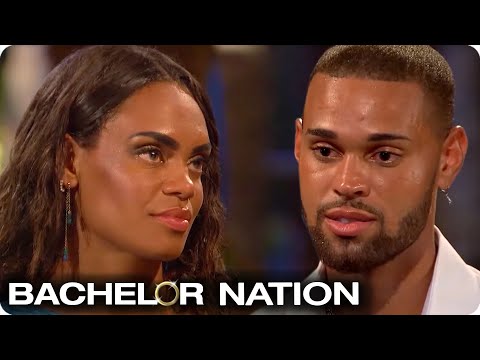 Since the beginning, Nayte and Michelle have had a strong connection. But is Nayte ready to say "I do?" During The Bachelorette Season 18 Episode 9, Michelle had one-on-one time with all three men in the Fantasy Suites. Nayte confessed that he was "falling in love" with Michelle. I am feeling things for you that I never felt for anybody before," he said. "It's easy for me to close my eyes and picture a genuine life with you."
Michelle proceeds to ask if he's ready for an engagement. "An engagement at the end of this is something I could see myself doing. I've had time to sit and think about things like, am I ready for this? And unwaveringly, the answer is yes. Do you feel like you couldn't get there?" In response, Nayte said, "Most definitely. For you, yes."
Michelle had doubts after meeting Nayte's family during Hometowns Week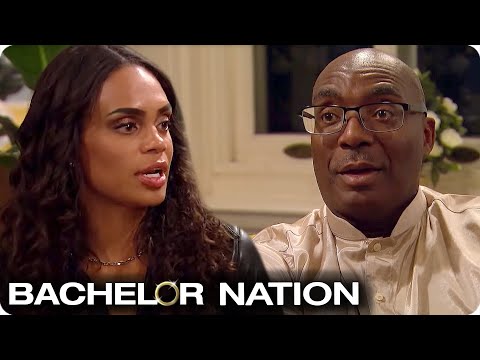 During Hometowns Week, Michelle had the opportunity to meet Nayte's family. Before the meeting, he revealed that he has a complicated relationship with his family. For instance, he shared that they rarely say "I love you" and don't have vulnerable conversations. Plus, Nayte revealed that Michelle is the first woman he's ever introduced to his parents. Nayte's stepfather, Charles, told Michelle that his stepson might not be ready for an engagement. "He doesn't know the difference between being in love and being married or being engaged," Charles told Michelle. "One's a feeling, and one's a commitment. They tie together very closely, but is he ready for that? I don't know if he can handle this. I don't know if he's going to get to that point."
Some Bachelor Nation fans think Nayte isn't ready to pop the big question
Now that Brandon and Nayte are in the final two, Bachelor Nation fans speculate that Michelle will choose Nayte in the end. However, some fans don't believe that Nayte is ready for an engagement. Although he proclaimed his love for her, fans simply don't think he's prepared to commit fully.
"Based on the hometowns I just watched, yeah, I know JUST, I don't think Nayte's ready," one fan wrote on Twitter. "Like he just told his stepdad he loves him for the first time. He's not ready to give his heart to another yet."
Another fan argued that Michelle should pick Brandon, who is currently the frontrunner in the competition. "I just love Brandon, and I do believe that he truly loves her," the fan wrote. "He has a nice family too. His dad loved Michelle. I believe that if he's not chosen, his heart will be truly broken."
So who will Michelle choose in the end? For now, fans will have to wait and see in the season finale.
The Bachelorette airs every Tuesday at 8:00 E.T on ABC.
Source: Read Full Article