Drew Barrymore has made her mark on Hollywood since she was 6 years old. Her second-ever film was the hit "E.T. the Extra-Terrestrial," in which she portrayed Gertie, the younger sister of Elliot, who becomes friends with an alien. The movie, which is still one of the most beloved of all time, launched her career and made her a superstar that helped her land roles in other hit blockbusters, including "Scream," "Never Been Kissed," and "Charlie's Angels," per IMDb.
But other than a successful movie career, "E.T." also led to a friendship with director Steven Spielberg, who Barrymore has referred to as a father figure. "He's been a very important mentor. He was the first stable male figure in my life. The best attribute a parent can have is consistency," she told the Daily Star in 2009. "I didn't have that. When he said he would be there at three o'clock, he was there. That meant more to me than anything."
Scroll ahead to learn more about Barrymore and Spielberg's relationship, including exactly where they stand today.
Drew Barrymore and Steven Spielberg's started with a lot of lies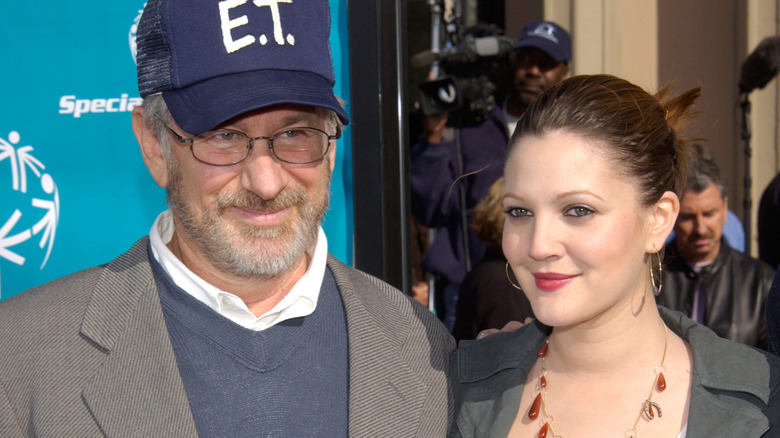 Drew Barrymore admitted her and Steven Spielberg's relationship started with some fibs, as she revealed that she lied to the director when they met on the set of "Poltergeist." She recalled the experience during an interview on "The Ellen DeGeneres Show" in 2015. "I lied to him. I lied my face off. I told him I was in a rock and roll band — that I was a drummer, of course. Because drummers are the coolest. … I felt like I had him in my butterfly net. I was so excited. "
The actor continued on to explain that she felt girls could do anything, thanks to her role model at the time, Pippi Longstocking, so she did what she felt like she had to do.  "I sold myself, and told my little stories," Barrymore explained. Though she didn't get the role, she left a lasting impression on Spielberg, who asked her to come audition for the movie that would eventually make her a household name: "E.T. the Extra Terrestrial." She said, "I was like, 'Oh yeah, ok, sure. I'm sure he won't call.' And he did!" The rest, as they say, is history, and Spielberg would become one of the most important people in Barrymore's life.
Drew Barrymore and Steven Spielberg are still in each other's lives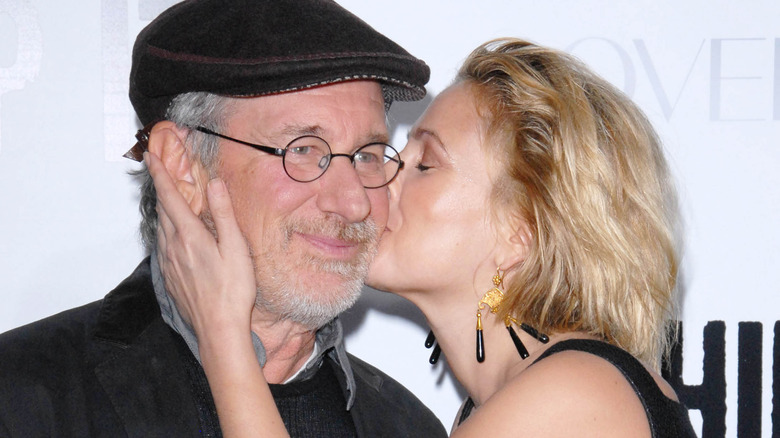 During an interview on "Jimmy Kimmel Live!" on September 9, Drew Barrymore opened up about where her relationship with Steven Spielberg stands today and the "full circle" moment they shared recently. "We actually had dinner with Steven Spielberg the other night, who has been someone who is you know really kind of the first father figure I ever had and remained in my life as such," she said.
The actor then revealed that the famed director has been there for big moments in her life, including the birth of her daughters, Olive and Frankie, whom she shares with ex-husband Will Kopelman. Now, Frankie is almost the same age as Barrymore when she was cast in "E.T. the Extra Terrestrial," and during their dinner, Spielberg had a special request for the young child. "He said, 'Frankie, I want you to say this line: Alligators in the sewers,'" Barrymore explained. "And she did. And then he looked at me like, 'Yep, she's got it.' And it was so surreal to me, to have that circle of life moment. It was so trippy."
It's unclear if Frankie will follow in her mom's footsteps, but if she does, she has a successful filmmaker and star of a mother to teach her everything he knows.
Source: Read Full Article