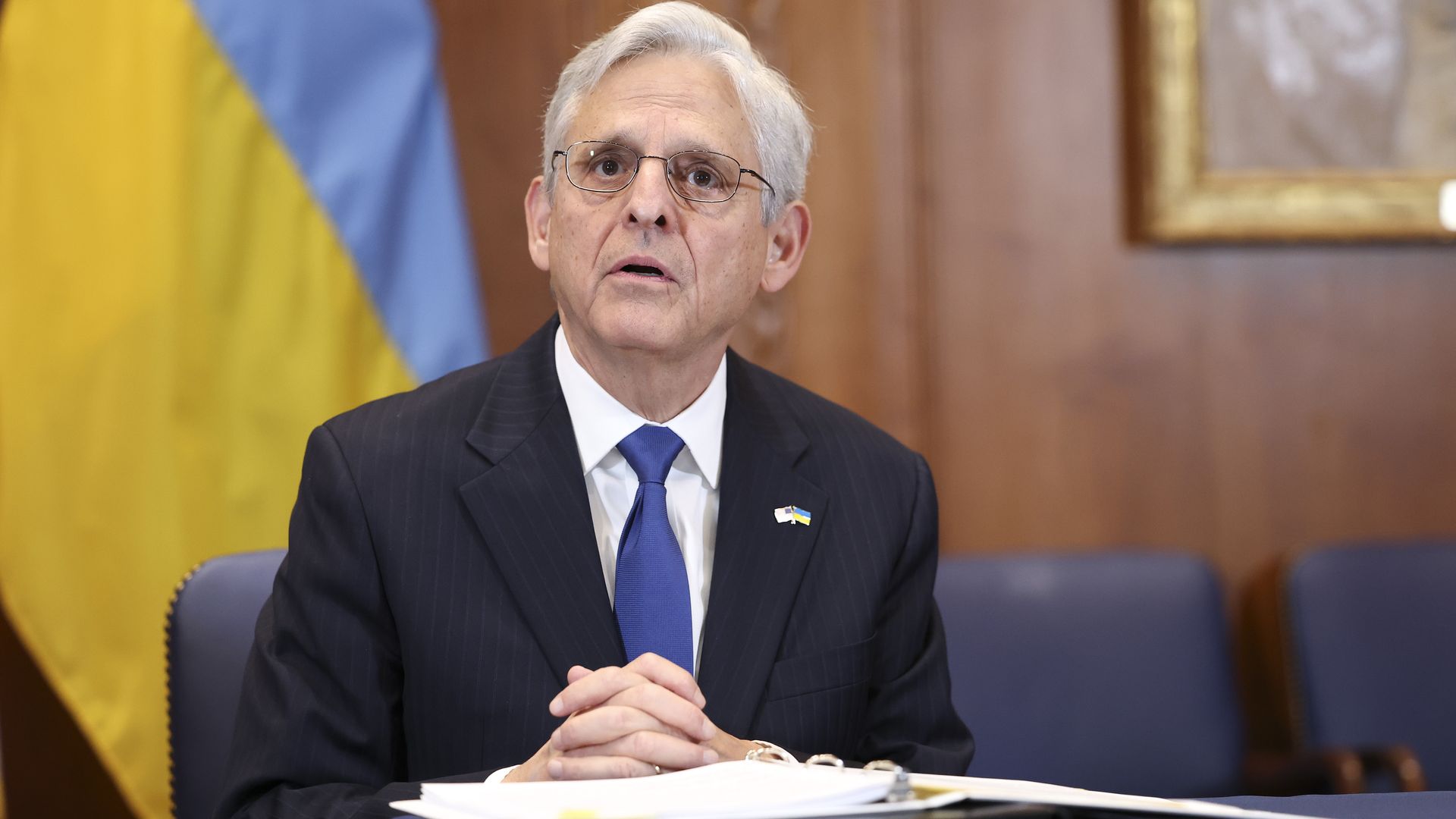 Merrick Garland participating in a signing ceremony with Ukrainian Prosecutor General Andriy Kostin at the Department of Justice in September 2022 in Washington, D.C. Photo: Kevin Dietsch/Getty Images
Attorney General Merrick Garland made a surprise trip to Lviv, Ukraine, on Friday at the invitation of Ukraine's prosecutor general, according to a DOJ official.
Why it matters: During the visit, Garland reaffirmed the U.S.' commitment to help Kyiv hold Russia accountable for crimes committed throughout its invasion of Ukraine.
The trip was not previously announced for security reasons, per the official.
The big picture: Garland joined Ukrainian President Volodymyr Zelensky, Ukrainian Prosecutor General Andriy Kostin and several other international figures for a conference.
Zelensky said the "United for Justice Conference" was the first step toward creating a legal network to identify and prosecute Russians involved in war crimes and crimes against humanity.
Garland previously traveled to Ukraine in June 2021, during which he announced the launch of the "War Crimes Accountability Team" to "centralize and strengthen" the Justice Department's efforts to investigate such crimes committed in Ukraine.
To lead the team, he tapped Eli Rosenbaum, former director of the Office of Special Investigations (OSI), which was primarily responsible for identifying, denaturalizing and deporting Nazi war criminals from the U.S.
Garland's most-recent trip comes just days after Treasury Secretary Janet Yellen also visited Kyiv to reaffirm U.S. economic support for Ukraine.
Go deeper: Biden, Germany's Scholz to weigh Ukraine aid in White House meeting
Editor's note: This story has been updated with additional background.
Source: Read Full Article