An experimental antibody cocktail was fast-tracked for US President Donald Trump as his condition began to worsen after testing positive to coronavirus one month before the election.
Shortly before he was hospitalised, Trump received an infusion of a drug produced by biotech company Regeneron, whose chief executive has known the president for years through one of his private golf courses.
Trump leaves the White House for Walter Reed Hospital.Credit:AP
The drug was released under what's known as a "Compassionate Use Request" whereby the Food and Drug Administration (FDA) allows access to experimental drugs to people outside of clinical trials.
Normally, this can be a long and challenging process, but the antibody was fast-tracked after the president's medical staff reached out to the company.
"He's in a race now – and I'm not talking about the political race," Regeneron chief executive Leonard Schleifer told CNN.
"He's in a race where his immune system is racing against the virus, and if the virus wins, you can have dire consequences."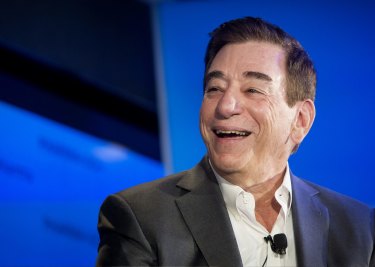 Leonard S. Schleifer, President and CEO of Regeneron Pharmaceuticals.Credit:Bloomberg
The antibody cocktail, named REGN-COV2, is designed to treat mild to moderate forms of the COVID-19.
Its aim is to reduce the virus load and the time needed to ease symptoms in non-hospitalised patients with COVID-19. According to the company, clinical trials had shown "positive trends in reducing medical visits."
The drug has not yet been formally approved but it is viewed by some as a promising prospect in the fight against global pandemic, which has so far killed more than 208,000 Americans and infected a further 7.3 million.
According to a memo from Trump's physician, Dr Sean P Connley, the president took "a single eight gram dose of regeneron polyclonal antibody cocktail" as a "precautionary measure" and completed the infusion "without incident."
Marine One lifts off from the White House carrying US President Donald Trump to Walter Reed National Military Medical Centre.Credit:AP
Regeneron's chief executive Leonard Schleifer has known Trump for years, as a member of the President's golf club in Westchester County.
Shares of Regeneron Pharmaceuticals initially rose more than two per cent after news of Trump's use of the drug was announced.
Trump Biden 2020
Our weekly newsletter will deliver expert analysis of the race to the White House from our US correspondent Matthew Knott. Coming soon. Sign up now for the Herald's newsletter here, The Age's here, Brisbane Times' here and WAtoday's here. 
Most Viewed in World
Source: Read Full Article